Happy Monday everyone :)
I hope everyone has had a peaceful and productive start to the week. My favourite kind of Mondays are the kind that calmly tick on while you get a phenomenal amount done in what feels like record time. At the end of the day, you stretch your legs out, close your laptop and go home with a kind of excited buzz for the week ahead. That is pretty much the kind of day I have had and it all started with getting up 1/2 an hour earlier…and NOT on purpose! It is amazing what 30 little minutes can do for you. Anyway, to skip back to the point, I just hope that is the kind of day at least some of you have had.
I have been eating, sleeping, living and dreaming Hello Duffymoon a lot more than usual (if that is possible?!). I am constantly scribbling down new ideas in my notebook and wherever I am, that little notebook is with me. Over the weekend I was flipping through some of the notes I had made on some recipe ideas for Autumn and low and behold… Caramel & Pecan Cinnamon Buns was staring right at me! As much as I wanted to leap up right then and there and get cracking on those cinnamon buns, the kitchen was a mess, we were in a rush and it just wasn't practical.
Needless to say I have been raring to go on these cinnamon buns since Saturday morning and here they finally are, in all their glistening, oozey, sticky sweet glory. Hot, fluffy and cheeky little cinnamon buns with thick caramel icing melting into them…topped of course with lightly toasted pecan nuts.
Disclaimer, I may be not held responsible for the addictive nature of these cinnamon buns, any weight gain or any tray licking. They are delicious and if you don't try them…you are silly and not in a cute way!
You will need:
Dough
2 cups milk
1/2 cup sunflower oil
1/2 cup sugar
1 packet dry yeast (10g)
4.5 cups of cake flour
1/2 tsp baking powder
1/2 tsp baking soda
1/2 tsp salt
Filling:
1/2 cup soft butter
1 cup sugar
1 tbps cinnamon
Topping:
1 cup icing sugar
1 tbsp melted butter
1-2 tbsp milk
3 tbsp homemade caramel (link to Apple Tart post)
1/4 cup pecan nuts
First let's make the dough. In a pot, combine your milk, sunflower oil and sugar and then heat until just below boiling. Make sure you don't burn the milk though! Wait for this mixture to cool and then sprinkle your yeast on top of the milk mixture and wait for about a minute before storing in 4 cups of your flour - reserving 1/2 a cup for the next step. Once you have combined the milk mixture and the flour to form a soft and squishy dough, cover your pot with a dishcloth and set it in a warm place for about an hour.
When you comeback from doing whatever you did in that hour to pass the time…your dough should be risen. Now you can combine your 1/2 cup of flour, baking powder, baking soda and salt and chuck it atop your dough. Mix thoroughly until all the dry ingredients are incorporated into your dough to make one happy dough!Now you can use your dough OR leave it in the fridge for a coupla days.
Take your dough and roll it out into a long narrow rectangle. The length will determine how many cinnamon buns you are doing to get out of your recipe, so make sure you roll 'em out real thin because these guys are going to expand a hell of a lot once they get baking. Once you have rolled out your dough, combine your soft butter, cup of sugar and your cinnamon to form a paste and spread that all over the surface of your dough.
Now it is time to roll this sucker up. Roll towards you from the top of your dough rectangle until you have a long cinnamon roll sausage in front of you. Cut the dough up into evenly sized pieces, roughly 3 fingers wide and space the pieces into a greased oven tray. Make sure to leave some space between them so they can expand a bit.
Leave the rolls in their dish to expand for about 15 minutes and then chuck them right into a 180 degree oven for about 15 minutes. Don't let them get too brown on the top or else they will be too crunchy and they may lose their deliciously gooey cinnamon bun identity.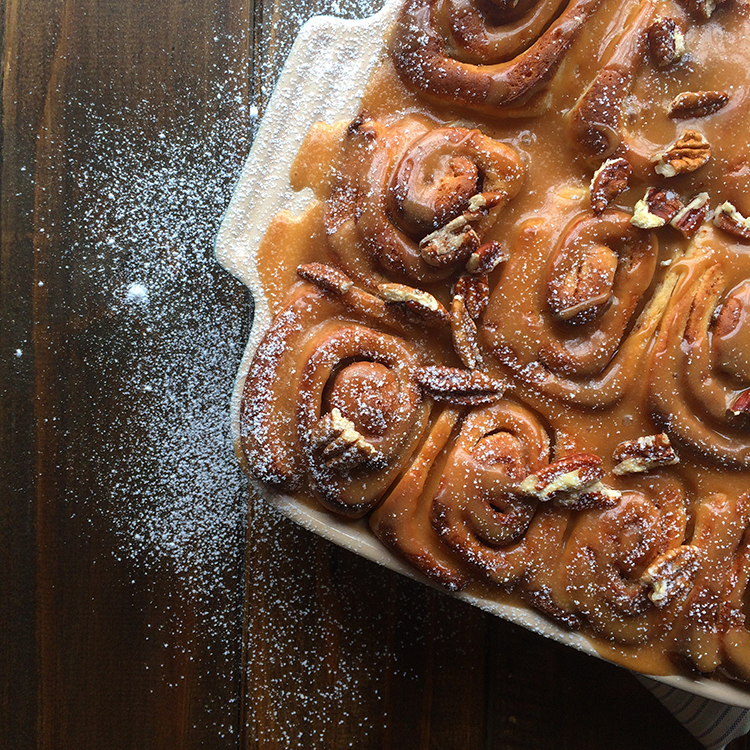 While your cinnamon buns are baking you can make your filling. Mix your butter, milk and icing sugar into a bowl and mix together to form a smooth past, then add your softened (in the micro) caramel sauce to the mix. This will create something that dreams are made of. As soon as your cinnamon buns come out of the oven smother them in the topping, letting it ooze between the cinnamon buns in the tray and then sprinkle on your crushed pecans. Wait for your buns to be JUST cool enough to eat but not totally cool, these are best served warm. It might be hard to eat a second because you are going to be grinning and we all know how hard it is to grin and eat.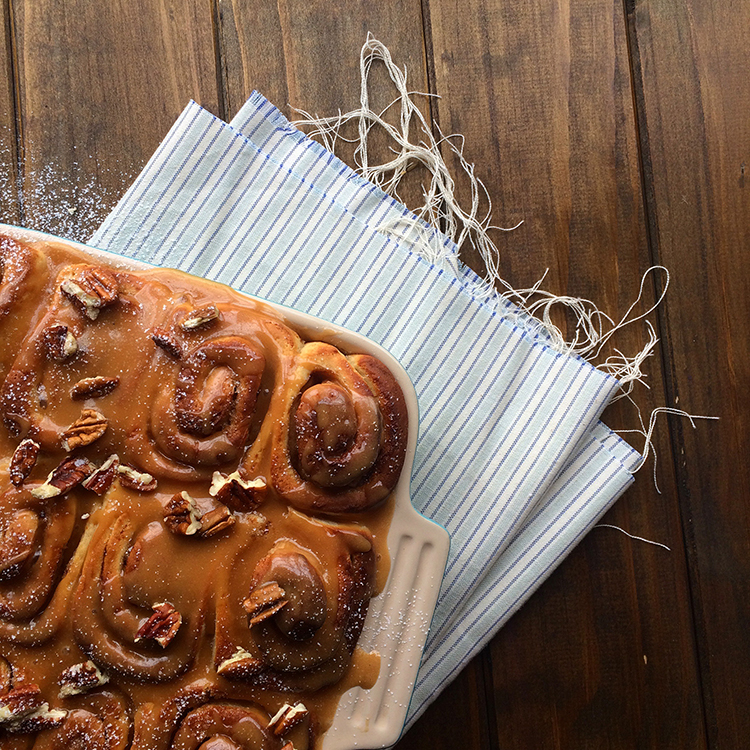 You are welcome
Please give me a shout out on Facebook or Instagram if you decide to give these a bash!
Love,
Duffymoon xxx