Okay, I am sure by now you have all cottoned on to the fact that I LOVE Autumn. I know I have mentioned it in nearly every post recently, but every year when Autumn comes around I seem to feel more alive, more inspired and ridiculously excited about everything! I love settling down in the evening beneath a couple of blankets, with a warm cup of tea and if the mood is right… a home made treat! Home made treats can be few and far between in the colder months because once you get snuggled up, you very rarely feel like hopping up and making just about anything, let alone a tart.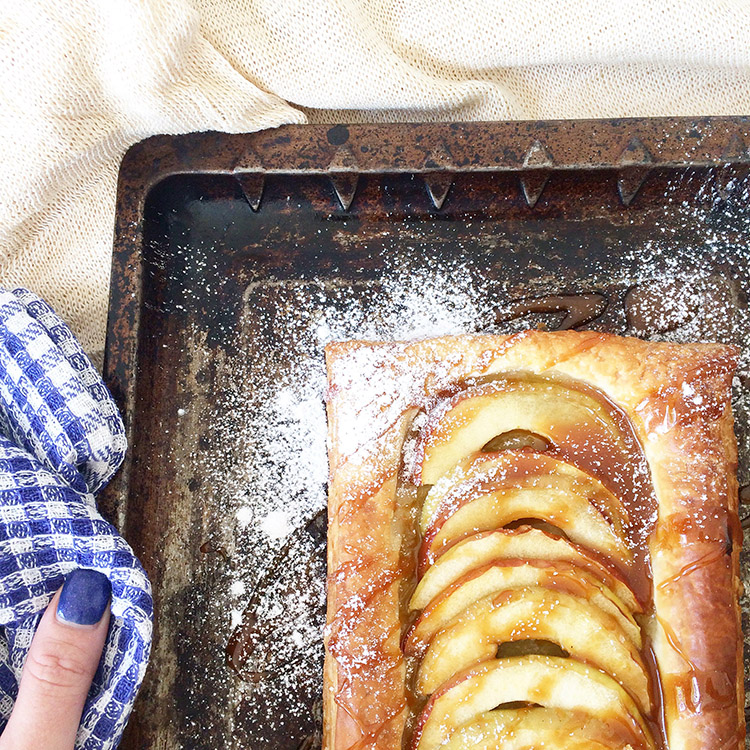 This little apple tart, drizzled in home made caramel sauce is another one of those things that you can just throw together at the last minute. It bakes fairly quickly and there is no fussing about with making pastry. Making your own pastry is beyond satisfying, but this recipe does not call for it!
You will need:
3 apples
1/2 cup of brown sugar
1 roll of store bought puff pastry (I used Woolworths)
1 cup of white sugar
85g of salted butter
1/2 cup of cream
pinch of salt
First preheat your oven to 180 degrees Celsius. Next, core your apples, cut them in half and slice them into medium slices - I did mine about 5mm. If you are worried about your apples browning, pop the slices into a bowl of cold water with some lemon juice in it. Once all your apples are sliced, drain them and sprinkle them with the 1/2 cup of brown sugar. Make sure that all of the slices are thinly coated in sugar, this is going to caramelise around your apples and make them amaaaazing.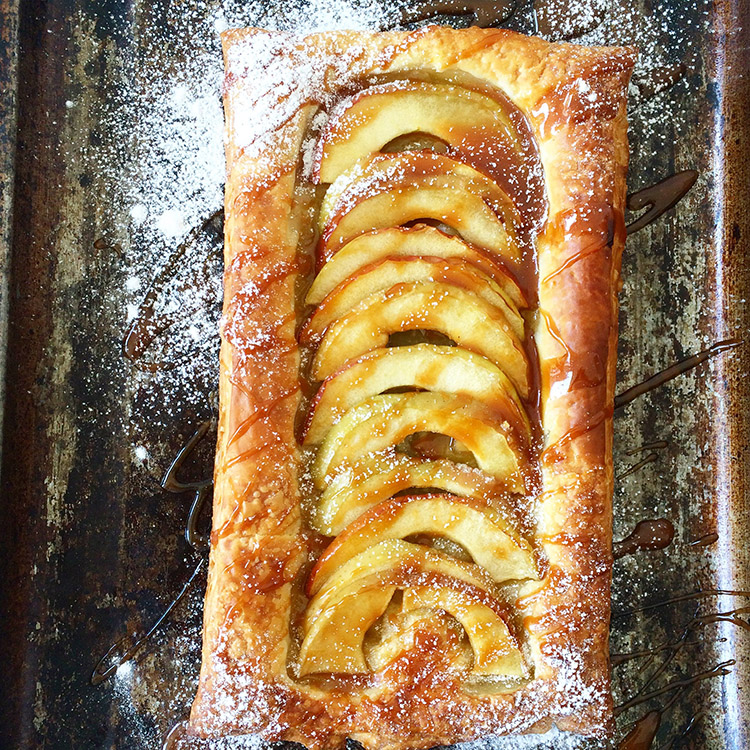 Next take your thawed puff pastry and lay it flat. Divide your pastry and cut it vertically into three equal pieces ( this means you will have 3 short stumpy pieces NOT 3 looooong skinny pieces- come on people, work with me.) In the centre of each of your slices you are going to lay your apples down, overlapping them as you go…basically using one apple per piece of puff. Pop your tarts into the oven and keep an eye on them. Take them out after about 15 minutes or when they are golden brown!
While your tarts are a bakin', lets get cracking on that caramel! This is easy and I really don't want you to panic about it. Caramel sauce is easy okay? Measure all your ingredients out beforehand and then chuck your sugar into a heavy based saucepan and stir. The sugar will melt and start to colour and once all your sugar is dissolved you can stir in your butter but be careful because the pan might spit a bit because of the change in temperature. Stir until all the butter is combined and then stir in your cream. Set aside to cool while you dash over to the oven to check that you haven't burnt your tart.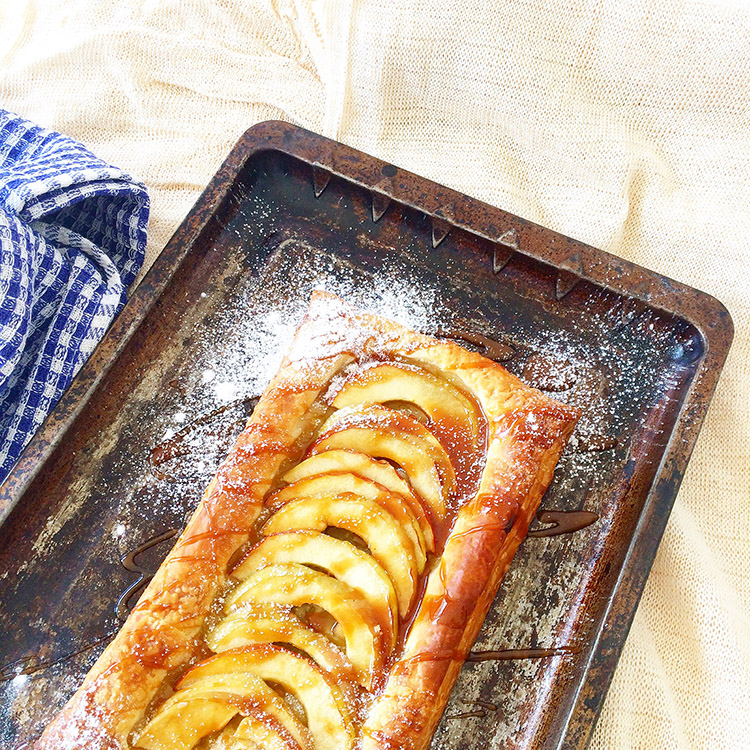 Once your tarts are done, generously drizzle them with caramel sauce, it is best to do this while the sauce is warm and spreadable. You can decorate with a sprinkle of icing sugar and a couple of toasted flaked almonds (as per my moms suggestion - Hi mom!) I only wish I had been advised on the flaked almonds before the tarts were devoured…tut tut tut
I like to serve these on battered trays with each tart cut into four.
The best thing about these tarts is that they are just so versatile, they can be served hot with vanilla ice cream for a fancy dinner dessert, cold from the fridge as a midnight snack or laid out as a tea time treat! I hope you take a bit of time to give these a go and if you do please snap a pic and tag me on Instagram, Twitter or Facebook.
Love,
Duffymoon
xxx