Helloooo everyone :) I hope you have been keeping well while I have been off doing non-bloggy things… like baking a million cakes and spending a long weekend in the mountains!
I feel refreshed and really excited about my future as a blogger and baker. I am really grateful to be able to combine pretty much all my favourite things into the melting pot of crazy creativity that is Hello Duffymoon. Not everything I do will be loved and not every post will be rejoiced with the kind of breathless gusto that it was created with but hell, isn't it great to just totally love what you do?
Moving away from the gushy grateful admin stuff, say hello to this Roasted Pumpkin Soup. This soup is, like, super simple and damn delicious! It is the colour of Autumn and incase you don't know already, I love Autumn. As soon as I woke up this morning I just knew I have to make something warm and Autumny. There was a bit of a nip in the air, so much so that I had to wear socks and a scarf and I kind of had that feeling that I could be back in the berg so I just went with it.
I love that all kinds of different things can be added to this basic recipe to make it something entirely different. A bit of orange zest? a swirl of cream? a dollop of chilli coriander pesto? Take your pick! The basic recipe is gluten free, vegan and low carb. It is a perfect recipe to double and freeze for colder evenings where you don't want to do more than heat and eat. I can't wait to send some of this pumpkin soup off to work with Darren in an adorable console jars and a brown paper bag of delicious home made bread, doesn't that sound like a picnic-worthy meal?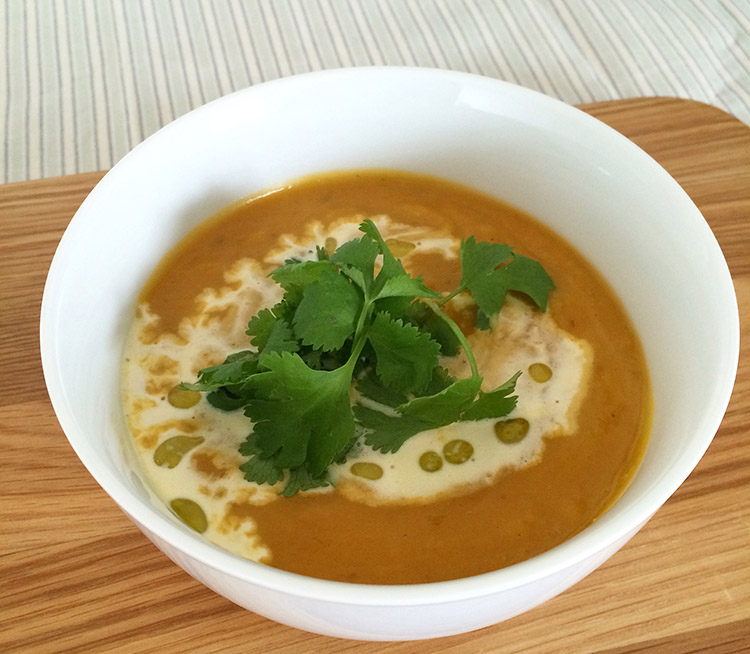 You will need:
1.5kgs of pumpkin (in big chunks)
1 tsp chilli flakes
1 tsp cumin
1 tsp coriander seeds
1 white onion (chopped)
3 cloves garlic (chopped)
1 stick of celery (chopped)
1 litre of vegetable stock
Fresh Coriander
Olive Oil
First preheat your oven to 180 celsius and take your pumpkin chunks, put them in a roasting tray and drizzle them with some olive oil. Next use your pestle and mortar to crush your chill flakes, cumin seeds and coriander seeds together, crush them until they are mediumishly crushed and then sprinkle this spice mix over your pumpkin chucks. Roast your pumpkin chunks for +- an hour, until they are deliciously soft and the peaks are a light caramel colour.
While your pumpkin is roasting, lightly fry your onion, celery and garlic until it is soft, don't allow them to brown, they just need to be cooked until they are sweetened. Once this is done you can add your hot vegetable stock. When your pumpkin is done, whip out your blender and add half of your stock mix and half of your pumpkin mix to the blender. Blend until smoooooothe. Repeat with the other halves.
Alternatively you can add your butternut to your stock pot and blend it all together with a stick blender, but I like to mix things up and just use my normal blender, I find it is less work than having to spot the chunks with a stick blender.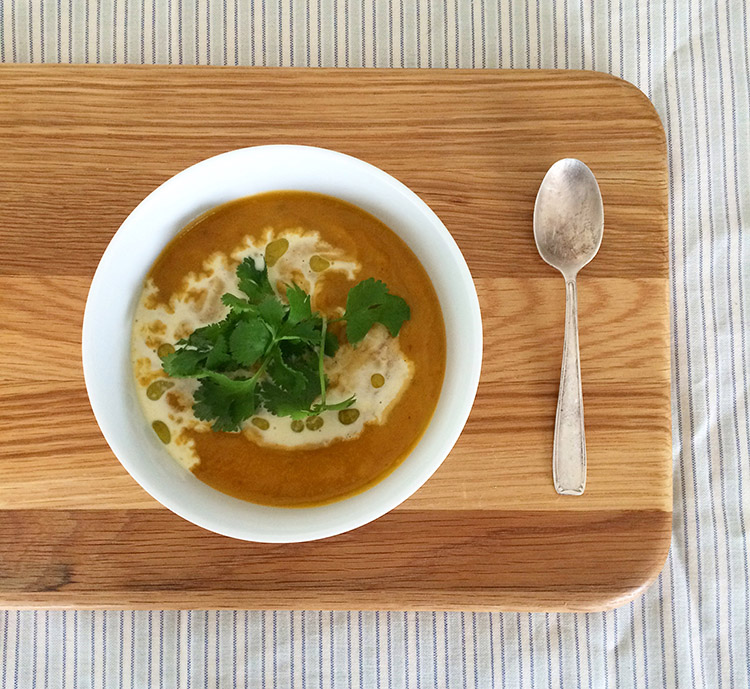 Serve with fresh coriander, bread of your choice, a swirl of cream/coconut cream and a side order of snuggling on the couch with your cat / significant other / dog / by yourself with wine.
To the couple of you that read this blog or follow me on Facebook and Instagram, Thank you. I am so grateful for the bursts of support and excitement that I receive on a daily basis, I am sure there will be more joining us soon :P If you want to be notified via email when there is a new post, all you have to do is make a comment below any of my posts and check the "subscribe" box. TADA!
Love,
Duffymoon xxx