Howdy!
I am sorry that this is a day late, yesterday was madness... but who really keeps track of these sorts of things lately anyway? On this weeks Weekly Party Round-up I am laying out all the basics for a pretty sweet little St. Patrick's Day celebration! I kind of feel like it is my responsibility to celebrate the heritage of my crazy, red headed, Irish great grandfather! (well wouldn't you?)
Before we get down to all the cute party things, I think it is only fair that I tell you a bit about St Patrick's Day, obviously trying my best not to summarise from wikipedia. Basically as far as I understand it, St Patrick's Day is the celebration of the patron saint of Ireland, who died on the 17th of March and on this day all the Lent restrictions are lifted. People wear green in support of Ireland and a lot of people use it as a wonderful excuse to drink far too much! I am sure there must be a lot more to it, but hey, on to party!
I have celebrated St Paddy's Day a couple of different ways, a pub hop, a brunch and then there was me desperately trying to do something (anything) at the last minute to celebrate which resulted in beer and stew in a green tee shirt while sitting on the couch It doesn't matter how big or small, but I think we should always make the effort to celebrate.
I hope some of you are going to be throwing a get together for St Patrick's Day! Cheers!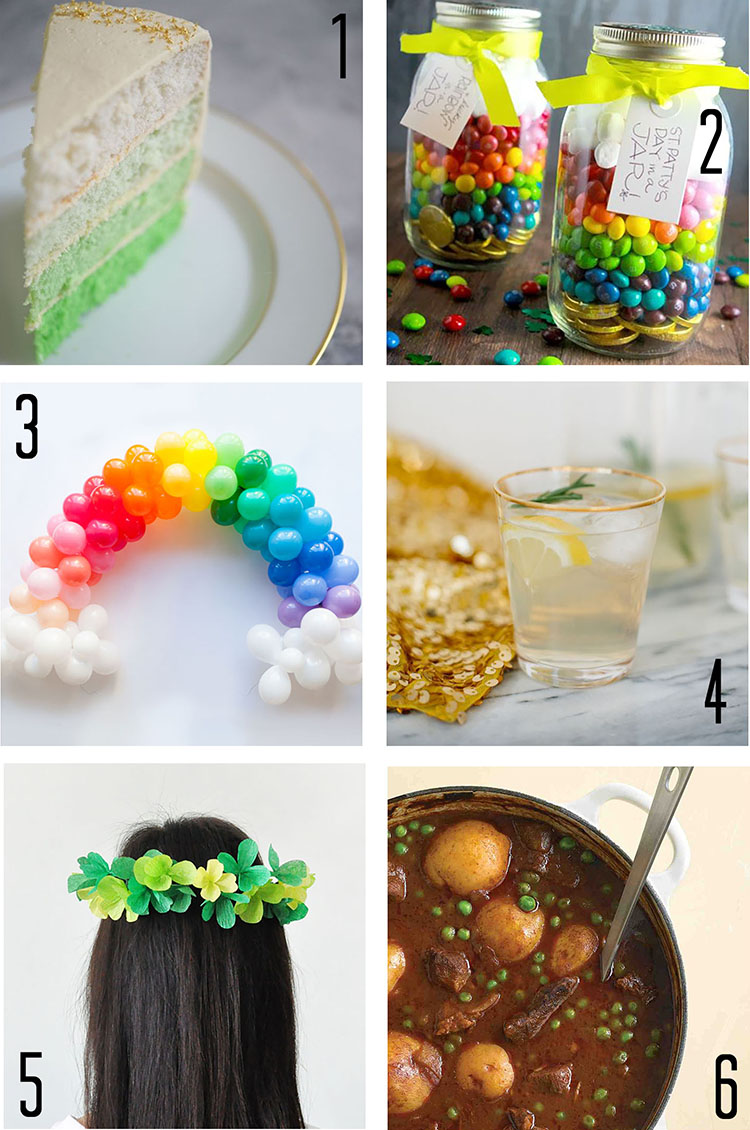 1. Green Ombre Cake / 2. Candy Jar Favour / 3. Mini Rainbow Arch / 4. Pot of Gold Punch / 5. Paper Shamrock Crown / 6. Irish Stew
Love,
Duffymoon xxx