I have followed Bakerella since the dawn of time and I have always loved her cake pops and cake balls but they always just seemed too involved and too finicky and too sweet and too small. They are apparently none of these things. After my sweet sweet darlings 30th birthday party, I had a whole stack of sponge cake left over that I really didn't want to waste…what better to do than to make Cake Balls? Well there was actually nothing else I could think of to be honest, but it turned out to be the best idea ever.
So it turns out that there is something to this whole cake pop phenomenon... meep. These are the perfect balance of desserty flavour, the combinations are endless and they don't have to be moulded into fancy shapes and individually decorated to be scrumptious and perfect.
A word of advice for those of you that are shortcut kind of people and even those that are not... just buy your sponges from checkers of bread ahead or somewhere equally shocking. I know, I know! It sounds like sacrilege and WHAT self respecting human being would ever do such a thing? I would and you should. It cuts your time in half and makes the whole cake pop experience so much easier and more enjoyable.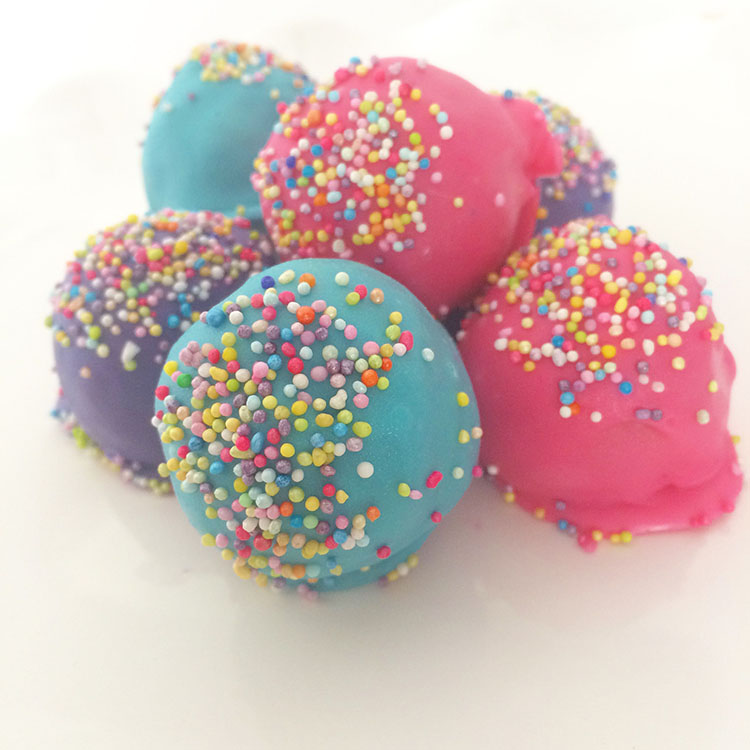 There are some baked goodies that should be slaved over and prepared with passion, precision and great gusto, things like my Epitome of Autumn Cake (link) and then there are some that should be cute, easy and thrown together like these cake balls. There is beauty in both!
I present, Quick Cake Balls!
550g vanilla sponge cake (+- 2 store bought round sponges)
250g butter
500g Icing Sugar
1 tsp Vanilla essence
4 slabs of Milky Bar
Edible powder colouring from your local party shop
Sprinkles of your choice
First, make your quick and cheaty butter cream frosting by beating your 250g of butter and teaspoon of vanilla essence on high in your stand mixer and then slowly add your icing sugar. Next, weight out your sponge cake mixture and crumble it into a very large bowl. Then begin combining half of your icing sugar mixture with your cake crumbs, gradually add your icing little by little until you have a reasonably stiff mixture.
Once this is done, roll little balls of cake mix and set them on a tray. Once you have rolled all your balls put them in the freezer to set for an hour or so. Before you remove your cake balls, begin preparing the white chocolate coating.
Melt your milky bar in the microwave for 20 seconds at a time in a heatproof bowl. You should only have to do this once or twice and then you will be left with a very runny white chocolate mixture. Divide your white chocolate into however many colours you will be needing, I don't recommend more than 3 with this quantity! Mix in your powder colouring and then you are ready to remove your cake balls from the freezer!
Begin my spearing your cake ball with a skewer of fork. I used a skewer and it worked just fine, the chocolate covers up the holes. Next dip your cold cake balls into the coloured melted chocolate, let the excess drip off and set down on a lined baking tray. Once you have done a couple, sprinkle them with your choice of sprinkles and chuck them in the fridge to set.
If your cake balls start to get a bit on the soft side, pop them back in the freezer to harden up a bit…otherwise you are more than likely going to end up with big blobs of cake in your chocolate mix! NO GOOD!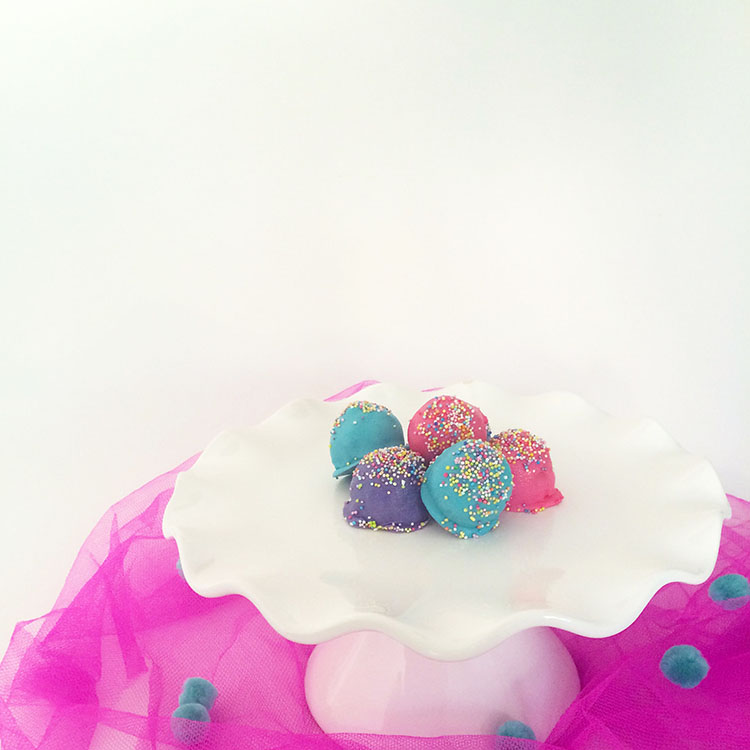 I hope you have enjoyed this long but easy Cake Ball recipe. How fantastically easy are these? I can quite imagine doing a spiced Autumn set or perhaps some dark chocolate covered marshmallow fluff ones just like little balls of hot chocolate! YUM!
Please like Hello Duffymoon on Facebook or follow me on Instagram.
Love,
Duffymoon xxx