Happy Monday everyone!
I had such a great weekend, how was yours?
This weekend felt like it should never have ended, I half feel like it can't possibly be Monday, it should be Christmas holidays! Last week seemed to last a lifetime and by the time the weekend swung round, we were ready and raring! I straightened my hair for the occasion and I did a crafty Instagram crop to see how I would look with a long bob ala Taylor Swift. I must say, I am a fan of the Taylor lob.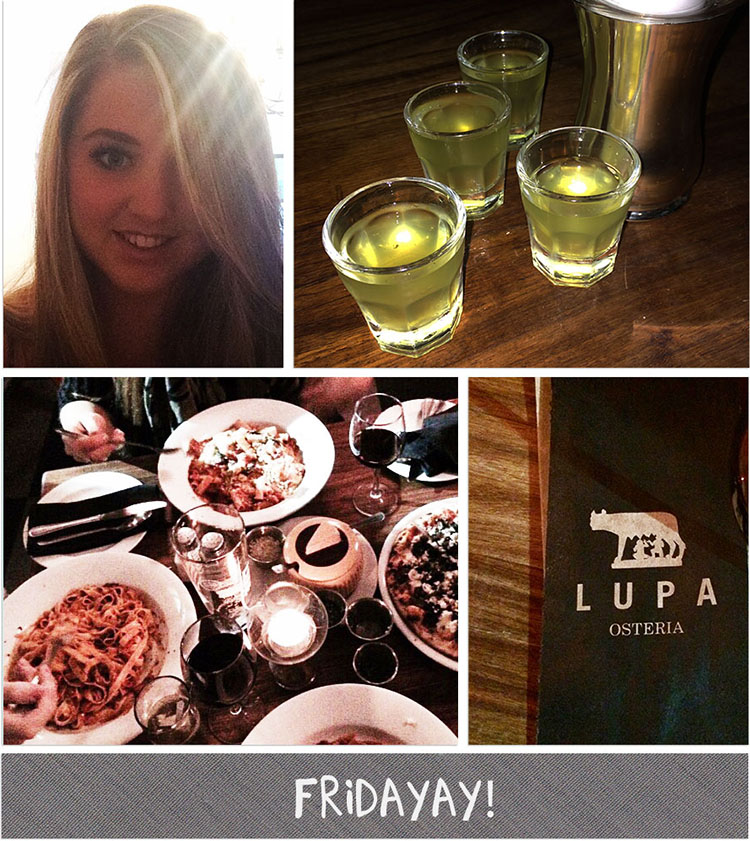 We started off our weekend with dinner at Lupa in Hillcrest with Brynn and Lisa. We had the most wonderful waiter and the food was just fantastic! It is a regular haunt of theirs, but it was our first time there. The pasta is freshly made (even the penne!), the pasta sauce is fresh and light, there is good red wine and the bottomless parmesan on every table is a total win. We stuffed ourselves on pizza and pasta and then proceeded to have 2 shots of limoncello each, on the house! Okay maybe we sneakily requested the second shot but we were very well behaved so I am sure we deserved it? We treated ourselves to two desserts between the four of us and the hazelnut chocolate tart almost killed me with it's Y U M. Go Lupa! You are amazing and we will be back!
I kind of feel like I have to write a little something about Brynn and Lisa because it wouldn't feel right if I didn't. Being friends with these two is both warm and refreshing. Like a warm breath of fresh air. Is that a thing? It sounds weird. Two beautiful people that exude this big kind of love that they have for each other. They are lovely, they are funny and they are easy to be friends with.
Sometimes we all eat ourselves silly (except maybe Brynn because he seems to have an unheard of willpower when it comes to treats), sometimes we all laze on the couch and watch movies (and Darren falls asleep), sometimes we get drunk and laugh and talk about the most weird and inappropriate things. But sometimes we get lazy and go home early, sometimes we cancel on each other and sometimes we don't talk for a weekend or two because we are doing our own coupley things. You guys are great friends and great people and we love you in a non-creepy, non-Jonestown kind of way!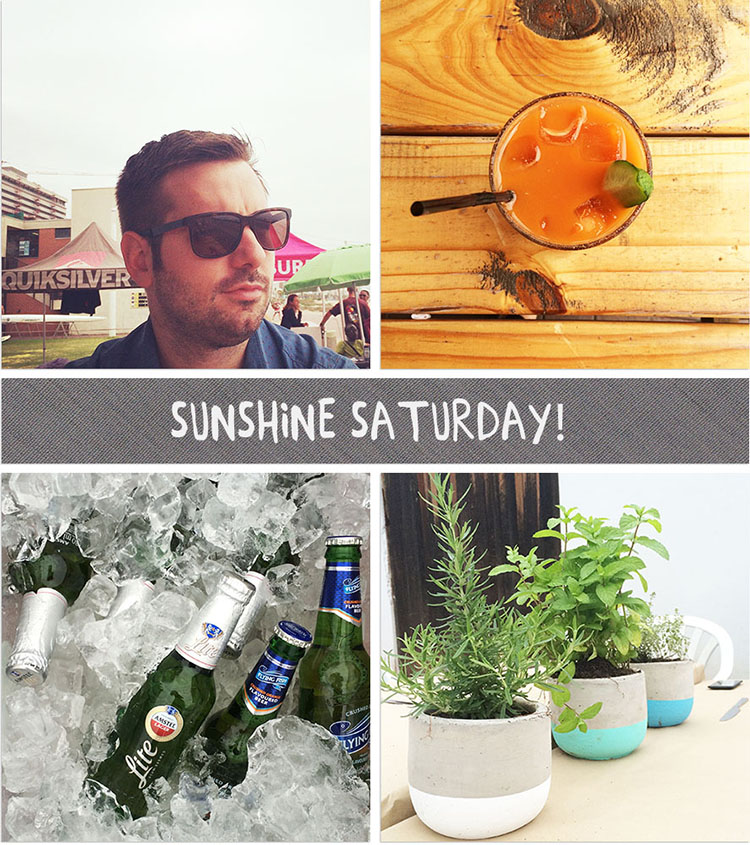 Saturday was an early start for Darren and I. We sauntered onto the Durban beachfront and found ourselves a promenade-side table at Surf Riders. This was my third time at Surf Riders, but it was Darren's first. I had previously not been too impressed by the service, but on Saturday it was spot on. We were one of those couples that lazily ordered the same thing. Fresh carrot and pineapple juice and burgers. I know okay? We happily snacked on some cheese fries (omg are you joking? those things are addictive!), devoured our homemade burgers and schlerped our fresh juices and we left very full and very satisfied. The only kak thing was that we ordered bacon and cheese burgers and received no-bacon cheese burgers, boohoo. The waiter did offer to totally replace the burgers and when we declined, he quickly brought some bacon on the side. No harm no foul, you guys are on the beach and I love the ocean and I forgot about that until now, so there.
On Saturday night we had a little family get together. We hauled out the braai (again?), put some beers on ice and Darren, Mark and Greg hovered around while the rest of us sat around laughing and relaxing in the warm summer air. It was total bliss. We have recently taken to being in the garden as much as humanly possible. We are embracing summer even though... we are not in perfect shape, the dogs can be a bit annoying, sometimes there are poops and we can be really lazy humans. Summer is for loving. Life is for living.
I would like to mention that I bought those amazing concrete herb planters at Mr P for R39.95. Can you believe? They are so adorable and the perfect addition to our outside table! Just try not to get dirt on the painted bits…they are a nightmare to clean!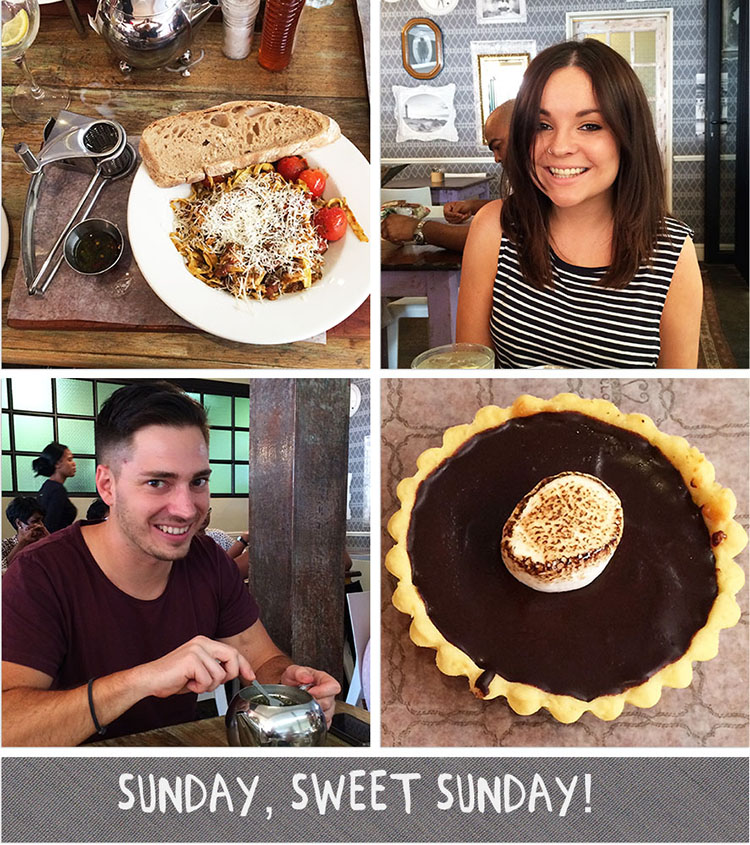 Last but definitely not least, our sweet sweet Sunday! We drove around desperately trying to find somewhere that was not load shedding…the beach was load shedding… Freedom Cafe was load shedding... and so we found ourselves nestled at Vovo Telo in Chartwell Drive. It was way past breakfast and they were due to load shed at 2 and we were starving!! The boys had pizza and Lisa and I had pasta. Amazing, delicious, fresh pasta… served with a PARMESAN GRATER! Guys, where can I get one of those? I am desperate. We topped off our tummies with fresh pastries, my smore tart was so amazing! Deep dark chocolate Ganache on top of caramel atop buttery pastry. Y U M.
My closing thoughts on this weekend are:
This weekend was great
I love my family
I love my friends
I love my boyfriend
Durban restaurants are killing it
Stop focusing on load shedding
I have missed pasta
Bring on the holidays!
If you have any fun weekend ideas, please contact me on Facebook, Instagram or Twitter!
Love, Duffymoon
xxx