Good morning and welcome to AUTUMN! Today I get to share my family-famous Vegan Curry recipe so you can all keep warm and toasty. It is a big bulky recipe that requires a big pot but it is perfect for freezing and whipping out on an even lazier occasion.
I don't know where you live…but over here in Durban, autumn has arrived, maybe 2 months later than originally expected but hey, you can't change the seasons. There is finally a nip in the air and I am 100% ready to embrace it, in every single way!
This Vegan curry has always been a firm favourite of mine for those colder evenings where you want something to warm you up but you don't want to have to wait 3 hours for it. As much as I love spending quality time puzzling and creating over the stove, I also love curling up on the couch with a hot bowl of curry and a good book. Sometimes you just don't want to have to work that hard! If you have real my Minimalist post, you will also know that I am making an effort to be more conscious about my eating – thus the Vegan bit.
My advice is to prep all your veg, open and drain all your legumes and have everything ready and waiting for you. Please don't judge me for using spice mixes, you are at liberty to make your own but Woolies takes real good care of me in the spice department, I mean, they even sell Miso now!
You will need:
a glug or two of olive oil
1 large red onion – finely chopped
2 cloves of garlic – crushed
1 teaspoon grated ginger
1 teaspoon of green chilli – finely chopped (+- 2 chillies)
2 boxes of Butter Chicken Spice
3 tablespoons of medium curry powder
4 tins of beans (I used 2 black beans, 2 kidney beans)
1 tin of chickpeas
1 tin of lentils
1 tin whole peeled tomatoes
1kg of chopped pumpkin
500g chopped orange sweet potato
1 litre vegetable stock
*Any other fresh veggies of your choice to add a bit of freshness and crunch (I used courgette and baby corn)
1 handful of freshly chopped coriander

Okay so lets get started!
Fry your finely diced red onion in a small lug of olive oil on a medium heat until soft and semi translucent. Next add your garlic, ginger and chilli. Allow this to fry on medium heat for a minute or two before adding your two boxes of Butter Chicken Spice and 3 tablespoons of medium curry powder. Let the spices fry and combine with your other flavours, adding more olive oil if the mixture gets too dry.
Next add your beans, chickpeas and lentils and let them fry for 5-8 minutes before adding the tin of whole peeled tomato. Smush up the whole tomatoes and mix them into the beans – keep your tomato tin!
Add your pumpkin and sweet potato to the pot and mix (or rather – try and mix because this pot is going to be massively full!) add your vegetable stock and use your tomato tin to add water to the pot until it covers your veggies.
Allow the curry to cook for +-25 minutes – basically until the pumpkin is softened but not mushy and then add any other fresh veggies of your choice and let those mix about and cook for another 10 minutes then add your fresh coriander and serve! You can serve this any way you would usually serve your curry but I like to serve mine over brown rice and quinoa and topped with fresh sambals and coriander.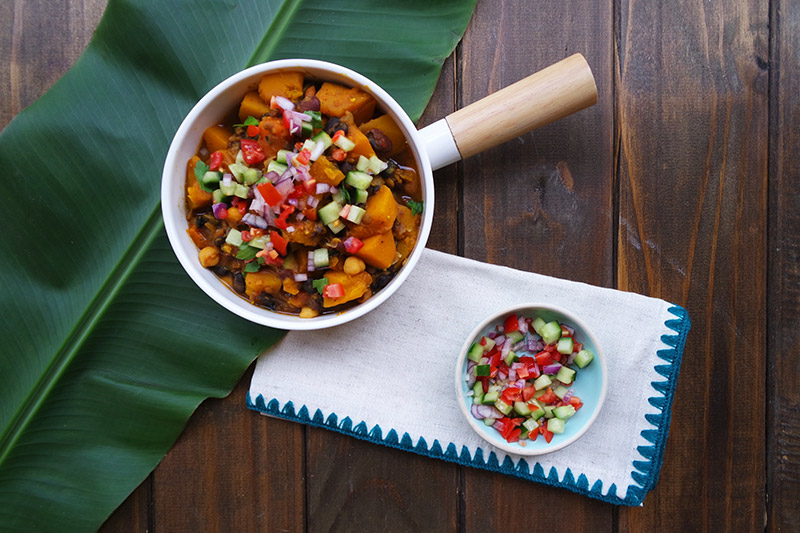 I hope you enjoy this heart warming curry recipe, I know my family are just wild about it (Yes mom, I will bring you some :P)
Thank you for taking a little look see at my latest post, if you want to see more of what I get up to on social media please take a look at my Facebook, Instagram, Twitter and feel free to add me on Snapchat (jordynburne) if you want to catch peaks of my newest cakes, cats, selfies, step-by-step recipes, bits of Durban and lots of delicious food!
Love,
Duffymoon