Hi there friends! Welcome to my second cake of the week. This weeks cake is the delightfully bright Frida Kahlo cake. It is one of my favourite and most satisfying cakes to make as the result is different every single time - like art, right? Using bright fresh flowers on a dark chocolate base really give a great colour pop.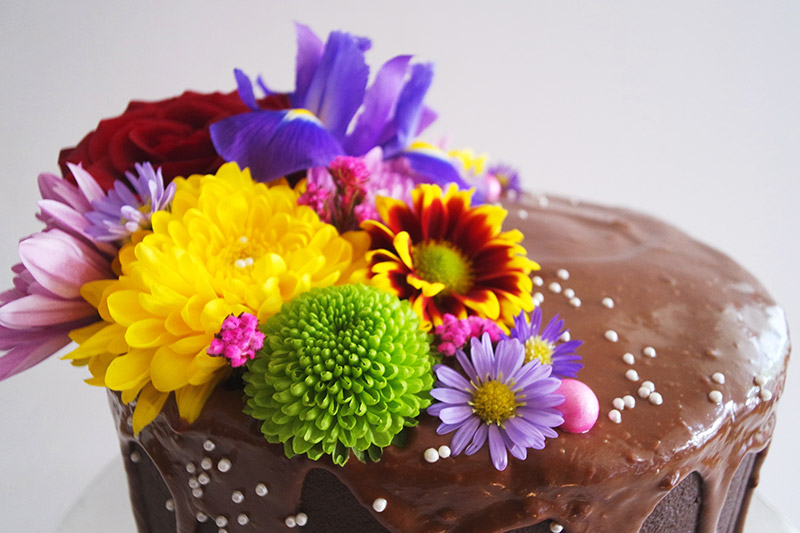 The Frida Kahlo cake is a deliciously decadent 6 layer chocolate sponge cake, perfect for a daytime picnic, a fancy high tea or a pretty night time get together under some fairy lights with a glass of champagne. This yummy cake is dressed in chocolate fudge frosting, dripped with homemade milk chocolate ganache and decorated with a beautiful fresh flower crown ala Frida Kahlo. Little pearl sprinkles and the odd bit of bright candy really bring this cake together.
Thank you for taking a little look see at my latest post, if you want to see more of what I get up to on social media please take a look at my Facebook, Instagram, Twitter and feel free to add me on Snapchat (jordynburne) if you want to catch peaks of my newest cakes, cats, selfies, fashion stuffs, step-by-step recipes, bits of Durban and lots of delicious food! OH! Please DO subscribe on the right so you can be the first to get the latest on the Hello Duffymoon front, I promise I am not spammy.
Love,
Duffymoon
* If you are based in Durban and are interested in ordering your own Frida Kahlo, you can email me on hello@helloduffymoon.com. All cakes can be customised with a name and age.