Happy Wednesday everyone! Another week and another Wednesday Wishlist – my favourite! Today is inspired by my plans to create a nice little home office space for myself. Working for yourself in your own home has it's ups and downs, one of the downs being not necessarily having your own "office"! You don't get to leave home and walk into an office and only worry about all the home stuff when you get back home. Obviously the pros outweigh the cons but it doesn't hurt to turn those cants into cans, right?
I have decided to create a little home office space for myself, a neat little sanctuary to do all my sit down admin bloggy work stuff. Up until recently, the kitchen was my office! I left everything else outside and I went into my little baker world. But as different aspects of my business grow and develop I find my need for "office" time increasing – drastically!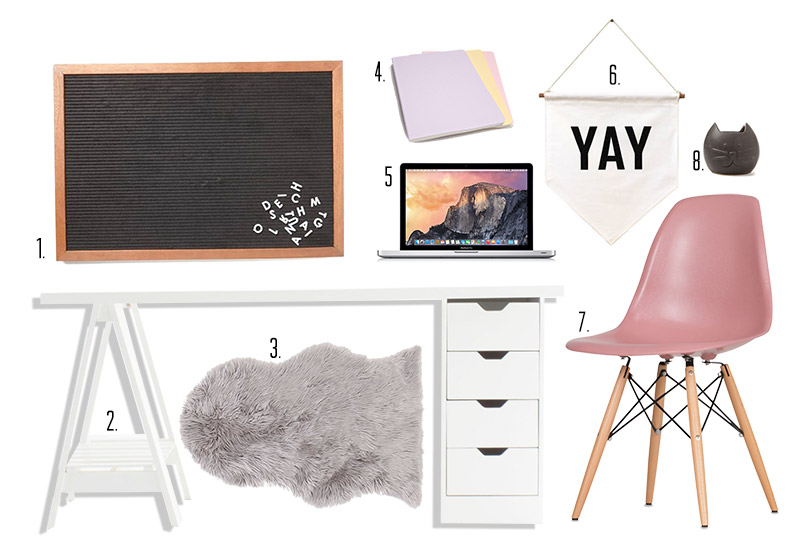 Black Felt Noticeboard / Trestle Table Desk / Faux Fur Rug / Pastel Moleskine Notebooks / Macbook Pro / Zana Yay Flag / Adam Rocket Chair / Cat Pen Holder
1. Black Felt Noticeboard
I love this fancy A2 notice board from Typo! I already have two of these in my kitchen at the moment. They are really useful for making long term notes and for lifting your spirits with positive sayings… Although I would probably use this one to do a basic Monday – Friday blog schedule!
2. Trestle Table Desk
I have grown up with trestle table desks! You know the kind where you pop a hollow door on top of two trestle legs and TADA! A desk? Except my mom used to decoupage mine with horse posters and paint the edges, it is probably one of my fondest memories. This table is basically a very grown up version of that. I love that it has drawers on the one side to hide all your goodies so you have more space on your desk for working. There are also glass top and no drawer options too!
3. Faux Fur Rug
I kind of feel like it is not a Wednesday Wishlist if there is no faux fur, what am I going to do in summer though? I am pretty obsessed with having loads of faux fur around in the winter. I feel like it really adds a cosy touch to your home without making things too hot, even though it is not freezing cold in South Africa. I am really obsessed with this light grey sheepskin style rug from Mr Price Home, I have the same shape in white…but hells bells does it get dirty. I would throw this under my desk to keep my feet warm while I work.
4. Pastel Moleskine Notebooks
I am a sucker for a good Moleskine, the silky soft pages beneath my pen all of a sudden make me feel like a super majestic writer. It probably sounds weird but if you have written in a Moleskine then you will know. I am in dire need of some new notebooks to write down blog ideas and to plan my days and these extra large pastel guys really fit the bill! They are big and lined and I can just see myself filling them with all my day to day writing.
5. Macbook Pro
I know this seems like a pretty "out there" item for a wishlist right? Yeah. Well I have a gorgeous Macbook Pro that I got two years ago but there was an unfortunate incident where after practically wrapping it in cotton wool for the first year it slid about 30 from the couch to the floor and I now have a 5cm black strip on the left of my screen and a seeping line of screen gunk that creeps further and further along my screen every week. It is going to cost 7k to replace the screen so after much deliberation Darren thinks I should just go for a new one. I can't view websites properly, I can't edit videos, I can't photoshop to my full potential…SO that is a real hardcore wish right there! Once you go Mac you can never go back!
6. Zana "Yay" Flag
I have wanted one of these flags for sooo long. I love how whimsical they are, how they add a bit of texture to a gallery wall or how they can pretty much just be a statement piece on a big blank wall. I love everything about them! Okay but as much as I love this dinky YAY flag I really had my heart set on the Zana EmmaJaneNation colab flag. The gorgeous pink guy with "Turn Down For What" printed on it. Are you there Zana? Please! I am begging you!
7. Adam Rocket Chair
Y'all know I have an obsession with pink! This pink is dark and dusty in real life and it just feels like a Hello Duffymoon girl boss kind of chair. We have these @Home chairs in white in our dining room…which is where I currently work! So I know they are comfy and perfect for getting things done. The thing about these chairs is that they are made of hard plastic but they are really perfectly shaped to be uber comfy office chairs! There is a reason why they are so damn popular.
8. Cat Pen Holder
As much as I like to avoid clutter on desktops…this cat pen holder combines two of my favourite things - cats and stationary! As most of you will know, I am cat obsessed, I have a cat called Jemima and she is my absolute heart and soul! I love having my pens at my fingertips instead of having to root around drawers and pencil cases to find them I can just pluck one out of here. The trick? Putting them all back again!
And scene! *spirit fingers* I hope you like my lil office inspiration wishlist, who knows...maybe you are trying to organise your own little space and now you are also in love with dusty pink and faux fur? I know...I hit the nail on the head.
Thank you for taking a little look see at my latest post, if you want to see more of what I get up to on social media please take a look at my Facebook, Instagram, Twitter and feel free to add me on Snapchat (jordynburne) if you want to catch peaks of my newest cakes, cats, selfies, fashion stuffs, step-by-step recipes, bits of Durban and lots of delicious food! OH! Please DO subscribe on the right so you can be the first to get the latest on the Hello Duffymoon front, I promise I am not spammy.
Love,
Duffymoon