Mac n' Cheese will forever be a comfort food favourite. Whether it was made with slices of peppered tomato on top or flecked with mushroom bits, served in a silky pile or cut into a stodgy square, I think everyone has a distinct memory tied to macaroni and cheese. This recipe is a healthier take on this firm family staple, it has pretty much been transformed into a dish you can have almost guilt free.
I was on the search for a delicious dairy-free cheese sauce that was not only cheese-less but also GOOD for you. Maybe that sounds ridiculous but who said I wasn't a bit ridiculous myself? This "cheese" sauce is a clever way to trick children into eating more veggies and it is an equally clever way to trick adults into thinking they are eating actual cheese. The base of the sauce is cauliflower and carrots, surprised? Wait until you taste it!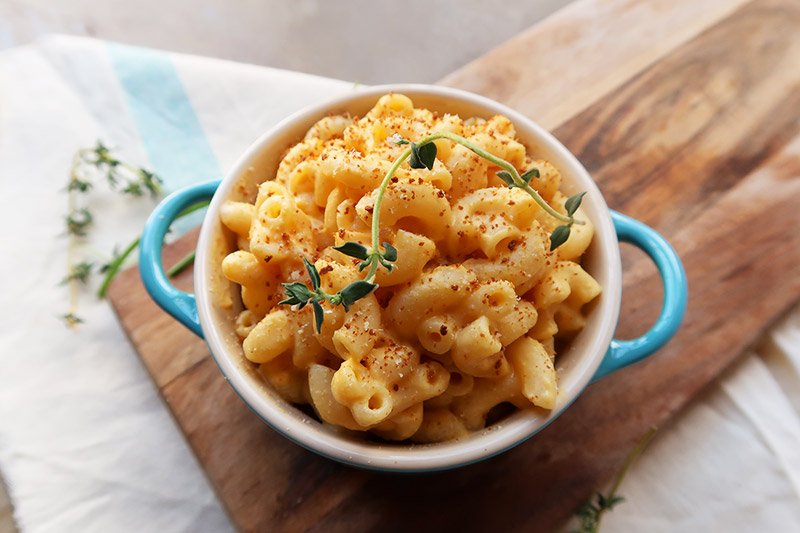 You will Need:
Pasta & Topping
- 500g macaroni
- 1 cup of breadcrumbs
- ¼ cup of nutritional yeast
- ¼ tsp garlic powder
- ¼ cup of lightly toasted cashew nuts
- cracked black pepper
- salt to taste
Cheese Sauce
- 1 head of cauliflower (broken into florets)
- 3 medium carrots (peeled and chopped)
- 1 cup unsweetened almond milk
- ⅓ cup cashews
- ¼ cup nutritional yeast
- 1 tsp garlic powder
- ½ tsp paprika
- ½ tsp chilli powder
- ¼ tsp mustard powder
- ¼ tsp cumin
- salt to taste
First things first, preheat your oven to 180°C and then get your cauliflower, carrots and cashews into a pot and just cover them with water. Bring the water to the boil and allow them to gently simmer until the veggies are cooked through, I found this to be around 10ish minutes. This is probably a good time to cook your pasta too!
While you are waiting for your veggies (and pasta) to cook you can get going on the topping. Chuck your cooled, toasted cashew nuts into your food processor and blitz until they are finely chopped, then add your nutritional yeast, garlic powder and breadcrumbs and pulse until they are combined. Set this aside in a bowl and get your food processor ready for round 2.
You can then go ahead and drain your veggies and cashews and pop them in your food processor along with the remaining sauce ingredients. You will need to blitz and blend these ingredients until they are super smooth and silky – this is what makes this so convincing. You may need to add a little more almond milk to reach a consistency you are happy with, I would recommend making it a little runnier than you would like as some of the moisture will disappear in the oven. I use my Nutribullet to blend my sauce -
Next up mix your sauce in with your strained cooked macaroni and put that into an ovenproof dish. Top your macaroni with your delicious breadcrumb mixture and bake this in the oven until the top is crispy and golden brown. Alternatively, you can toast your toppings and sprinkle them over your gooey macaroni without baking it in the oven- this is my preferred method!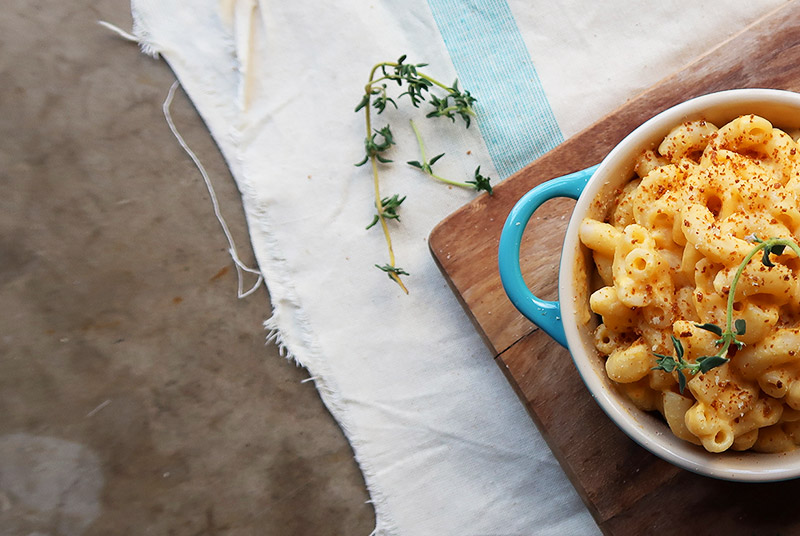 The sauce also makes a pretty good topping on nachos, mushroom burgers and fries! It is so versatile - so have fun with it. The best part is getting all the delicious cheesy flavour with the added bonus of all the veggie goodness. Please be sure to share your favourite way to use this magical little sauce, I would love to know!
If you want to see more of what I get up to on social media please take a look at my Facebook, Instagram, Twitter. If you want to catch peaks of cakes, cats, selfies, step-by-step vegan recipes, bits of Durban and lots of delicious food keep an eye on my Instagram story! OH! Please DO subscribe on the right.
Love,
Duffymoon