I love a good ol' creamy mushroom soup, The earthy flavour of the mushrooms paired with thyme and garlic just has a party in your mouth and warms you up from the inside out. You know when you start craving CREAMY mushroom soup? When you can't have cream. Classic can't have – must have situation.
I am a classically trained chef, so (as my mother will happily tell you) I was previously used to throwing cream and butter into anything to make it "creamy" and "delicious". So creating a deliciously creamy mushroom soup without any dairy whatsoever presented a nice challenge, a challenge I think more classically trained chefs should be presented with.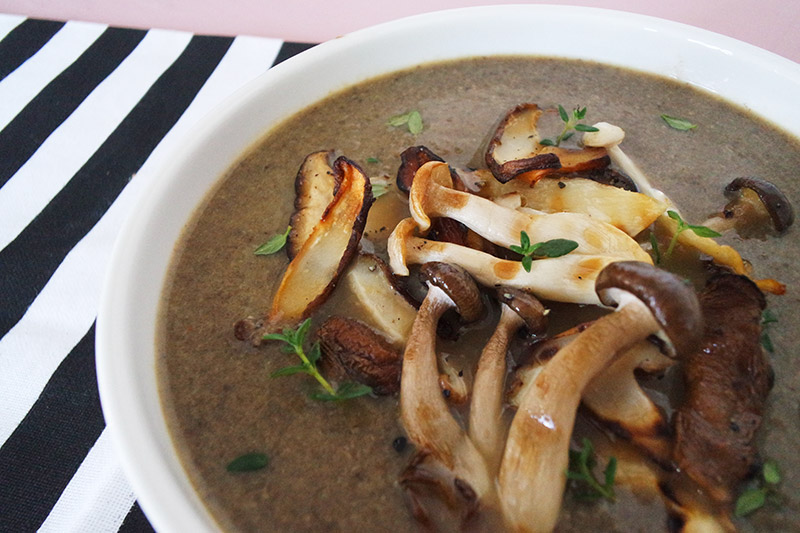 Okay so even though I am firmly in the middle of sunny Durban, Autumn has finally started to peak her curious little head around the odd corner. I can't wait to be snuggled up under a blanket with socks and sweaters and to start wearing beanies and boots, you know those boots you dust off 2 weeks a year because you live in slops, because: Durban? Yeah. It is the perfect time to start testing and experimenting with soups (getting overly excited for nights in and having my cat need me again) I have played around with a few recipes and I have come up with this delightfully simple one. It is low in fat, low in sodium, gluten free, vegan and DAYUUM GIRL it is delicious. Let's get this show on the road!
You will need:
- 800g mixed mushrooms (your choice)
- 1 red onion
- 2 cloves of garlic
- 1 litre of vegetable stock
- 1 mushroom stock cube/sachet (optional)
- ½ a handful of thyme
- a sprinkle of chilli flakes
- a lug of olive oil (optional)
- salt to taste
- a stick blender
Start off by preparing your ingredients; roughly chop your mushrooms –I used a mix of brown, button and porchini…but you can pick some more fancy ones if you like! Finely dice your onions, crush your garlic and chop your thyme. Preparing your ingredients beforehand just makes the cooking process that much more effortless.
Lug some olive oil into your cast iron pot and begin frying your mushrooms on a medium heat. Let your mushrooms fry for about 5 minutes and then add your onion, garlic, thyme and chilli flakes. Let everything fry in the pot, you will notice the moisture gradually cooking out of the mushrooms, let the mushrooms simmer and the liquid will slowly start to disappear.
Once most of the liquid is cooked out, you can add your litre of veg stock and your mushroom stock cube or mushroom stock sachet. The mushroom stock is optional but I find it gives the soup a bit more oomph! Let your soup simmer for about 15 minutes and then take it off the heat and season with salt. At this stage, you might be thinking wtf? This doesn't look creamy or delicious? Get your stick blender and blend it up, this takes it from chunky mushroom stock to delightfully delicious mushroom soup. You can serve your soup with some crusty bread and topped with grilled mushrooms, crispy croutons and a few fresh thyme leaves or just have it as is.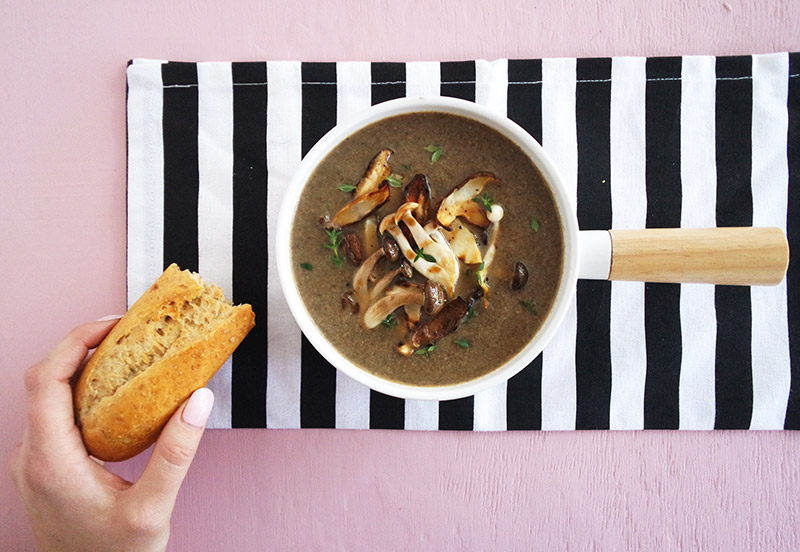 I hope you enjoyed this warming winter recipe, I also think it would make a pretty amazing pasta sauce if the stock was halved, so that is the next thing! Please do let me know if you give it a bash.
Thank you for taking a look at my latest recipe, if you want to see more of what I get up to on social media please take a look at my Facebook, Instagram, Twitter. if you want to catch peaks of cakes, cats, selfies, step-by-step vegan recipes, bits of Durban and lots of delicious food keep an eye on my Instagram story! OH! Please DO subscribe on the right (please)
Love,
Duffymoon