Scones throw me back to a sunny Arts Café day with two of my best girl friends, lazing in the spring sunshine and catching up while snacking on these delicious tea time treats. I am sure to the naked eye these scones look like your run of the mill scones, smothered in strawberry jam and cream, right? Wrong! These are not ordinary scones, they are, dare I say it…vegan scones!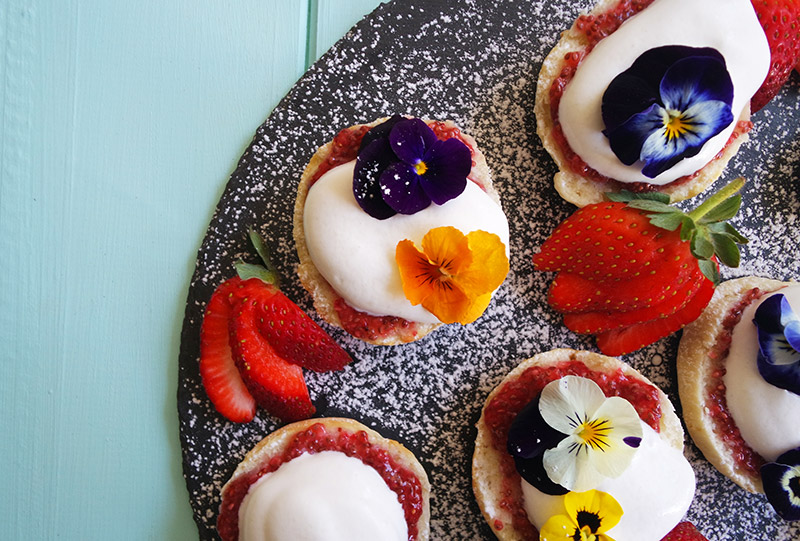 As some of you know, Darren and I have swapped over to a vegan lifestyle in the last couple of months. It has been an amazing journey so far and despite the initial "restrictions" we have found ourselves more excited about food than ever before. There is of course the odd thing, like scones, that link back to a very fond memory and make you crave everything about that very day, the sunshine, the sweet sticky jam and the sound of your friends happy laughter. Nostalgia demands scones!
So I set out to make scones, scones to be served in abundance, piled high on a platter and served with lashings of my homemade strawberry chia jam, dairy free vanilla cream, a gentle sprinking of icing sugar and decorated with fresh strawberries and edible flowers. The most important thing about these scones is that despite there being no dairy involved, they have to taste like the real thing! Are you interested yet?
After experimenting with a couple of recipes I landed on these beauties, soft, fluffy and delicious with a very secret and special ingredient….coconut milk! I know right, it sounds ridiculous! I thought so too, even after I had tasted them, I needed to be sure they were just like the real thing and my desperation wasn't tricking me. So I bundled them off to Darrens office for all the non-vegans to try and I am pleased to report that they were polished off in a matter of minutes.
You will need:
-2 ½ cups of all purpose flour
- 3 teaspoons baking powder
- ½ teaspoon of sea salt
- 1 tablespoon of sugar
- 1 tablespoon vinegar
- 1 ¼ cup coconut milk (shaken up!)
First preheat your oven to 220 °C, next add your flour, baking powder, salt and sugar together in a big mixing bowl and mix them together thoroughly. In a small jug mix together your cold coconut milk and vinegar until they are combined. Create a well in the middle of your dry mixture and slowly begin to mix the dry ingredients into the wet. It is very important that you do not over mix scones, as they can then become chewy and lose their fluffiness!
Once you have mixed your dry and wet ingredients together you can then decide whether your scone mixture is the desired consistency. The mixture IS a sticky one, but you should be able to handle it with floured hands, if not, add a little more flour until the dough is manageable. Next dust your work surface with some more flour and plop your dough onto it, making sure to flour your hands before gently flattening your dough into a 2cm thick slab.
You can now dust a round cookie cutter with flour and press into the dough. Avoid twisting the cutter into the dough as this prevents the dough from rising straight up but rather in a weird warped way. You should be able to get 8 medium sized scones out of this mix. Just squish together the leftover bits (without OVER mixing them) and cut more scones until your dough is finished. Transfer your scones onto a lined baking sheet and bake them for 10 – 12 minutes until they are fluffy and golden brown.
Remove them from the oven and let them cool before slicing them in half and throwing on all your favourite toppings. I naturally favour my homemade strawberry chia jam with a little dollop of whipped dairy free cream with a drop of vanilla extract and a dusting of icing sugar, but there are so many different jams and cream alternatives out there you can really go bananas with the combinations!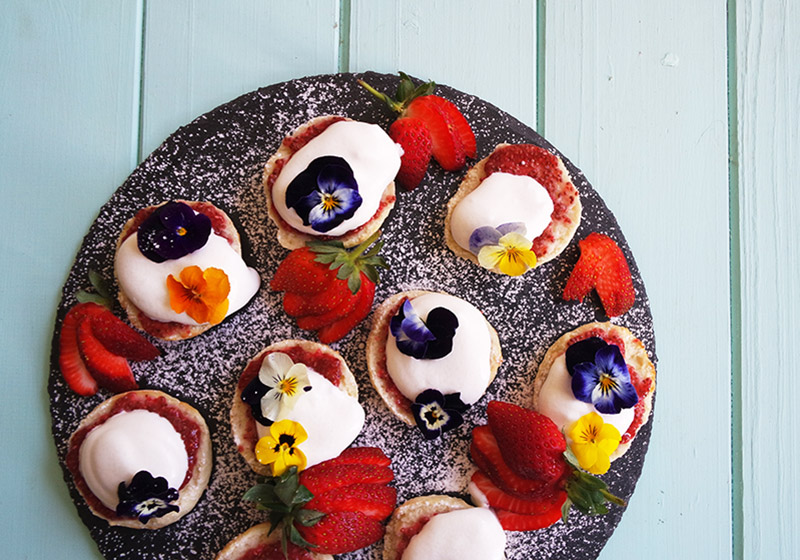 Thank you for taking a little look see at my latest recipe, if you want to see more of what I get up to on social media please take a look at my Facebook, Instagram, Twitter and feel free to add me on Snapchat (jordynburne) if you want to catch peaks of my newest cakes, cats, selfies, step-by-step recipes, bits of Durban and lots of delicious food! OH! Please DO subscribe on the right, it is purely for mailing list purposes, you won't get spammed (promise)
Love,
Duffymoon