I have had a love-hate relationship with my hair. I used to have waist long au natural mousey brown hair, which now that I am writing about…pulls at my heart strings. I was unnaturally attached to my hair, I hardly cut it and it mainly sat piled up high on top of my head in a messy bun. Around a year ago I took the plunge and chopped my hair into a long bob. Aside from the physical change in my appearance, I felt lighter and filled with more freedom than I could fathom. I had done what I thought I could never do, it was more than a haircut, it was an inspiration, a dose of confidence and it was proof that I was not a slave to attachment.
Fast forward to last year November, I decided to go full on platinum blonde. Okay, no one warned me how totally damn ouch it is, but I fell in love with having platinum blonde locks. I have the freedom to dip dye my ends different colours or tint all my hair pink or lilac or sky blue – without consequence! I haven't actually done any of that…but the point is that I could if I wanted to!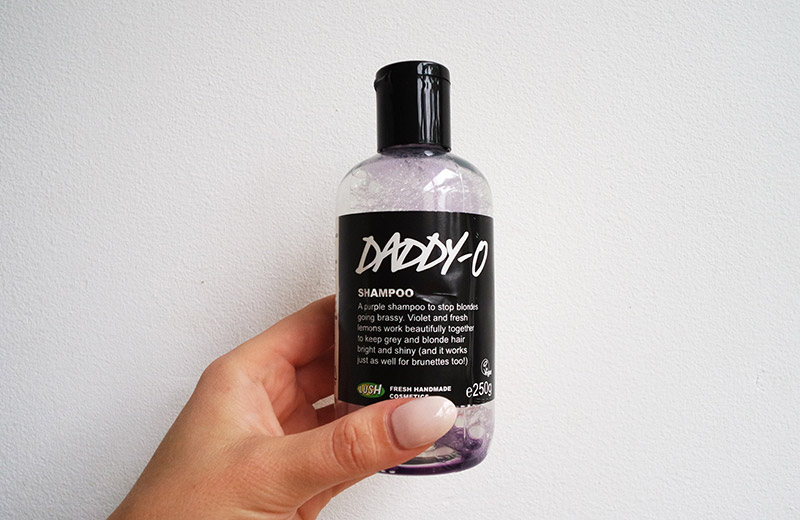 That brings me to my love affair with Daddy-O. I had gradually been weaning myself off cruel cosmetics, so once I went platinum, my first stop was Lush. I had researched and read up on Daddy-O all over the web, but most of the reviews were old and outdated. I took the plunge and bought a small bottle to test out. At first, I was scared that the bright shade would tint my hair a dramatic purple, but after one or two washes I began to feel confident that my hair was safe from unwanted violet violence.
I absolutely love this shampoo. Aside from the fact that it stops my hair from going brassy, it also keeps my hair really soft and conditioned – which is weird for shampoo right? Well, I took it through the ultimate test and washed my hair and skipped conditioning it…yeah. I washed rinsed and dried my hair and it was still as soft as ever. Remember…my hair is next level crazy curly and tends to err on the side of dry.
I just thought I owed it to all the platinum blonde cruelty-free queens to share the love <3
Thank you for taking a little look see at my latest post, if you want to see more of what I get up to on social media please take a look at my Facebook, Instagram, Twitter and feel free to add me on Snapchat (jordynburne) if you want to catch peaks of my newest cakes, cats, selfies,step-by-step recipes, bits of Durban and lots of delicious food! OH! Please DO subscribe on the right (please)
Love,
Duffymoon