So clearly I am on a bit of a sweet kick! I am 100% hoping that if I pump out a bunch of warm and cosy recipes that the cold weather will stick around for longer than a day, where is winter? I stumbled across a version of these brownies and I knew I had to recreate them immediately and that is not an exaggeration. I went home last night, preheated the oven and threw these brownies together quickly and effortlessly - you can too! You should have everything you need in your pantry, well if you are a bakey bakey kinda person at least. Packed with protein and ridiculously rich and decadent, these brownies do not disappoint. A dark chocolate brownie swirled with creamy peanut butter, I mean, how could you NOT? They make an amazing treat and go perfectly with a cup of coffee…I may or may not be eating one right now…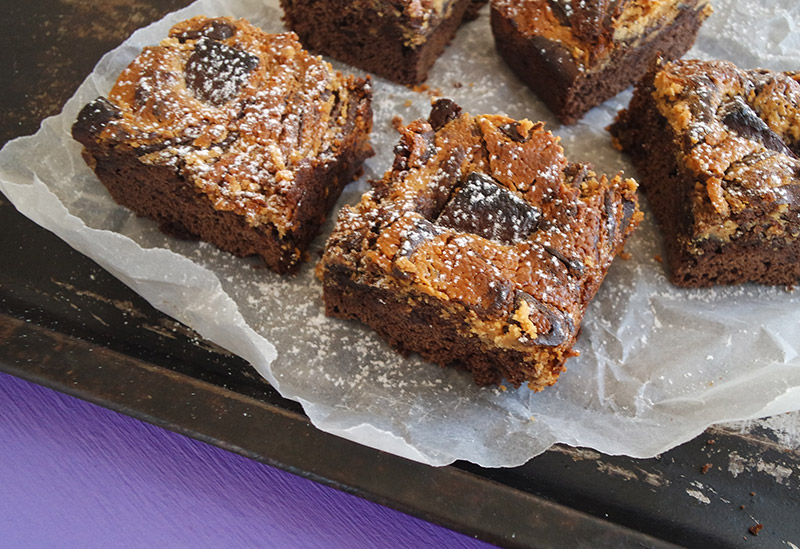 Let's get started:

Brownie:
1/2 cup dark chocolate
1/4 cup coconut oil
1⁄3 cup unsweetened almond milk
1 tsp vanilla extract
1 tbsp cornflour
2⁄3 cup sugar
3⁄4 cup plus 2 tbsp self-raising flour
3 tbsp cocoa powder
pinch of salt
3 squares of Lindt chopped into 4 pieces each (strangely specific)

Peanut Butter Swirl:
-1⁄2 cup creamy peanut butter
-2 tbsp sifted icing sugar
-1 tbsp melted coconut oil
-1 tsp pure vanilla extract

First, start off by preheating your oven to 180 degrees celsius and then move on to making your peanut butter swirl. For the swirl, take your peanut butter and combine it with the icing sugar, coconut oil and vanilla extract, make sure that your icing sugar is sifted and the mixture comes together smoothly. Next move on to making your brownie base! Melt your chocolate and coconut oil together - you can do this in a stainless steel bowl over a pot of boiling water OR you can do it the naughty way and pop your chocolate in the microwave for 5 seconds at a time, stirring continuously until it is all melted. No prizes for guessing which route I took! In a separate mixing bowl, whisk together your room temperature almond milk, vanilla and cornflour and then slowly add the melted chocolate. Now everything comes together! Sift the flour, cocoa powder and salt into the chocolate mixture and mix everything together to make a sticky batter. Thoroughly grease a 20cm square baking tin and squish your brownie mixture into it. Next dollop the smooth peanut butter mix on top and swirl it in using a knife or an unused chopstick that you had lying on the counter.
Now you can take those strangely specific squares of Lindt and squish them into the top of your peanut butter dollops and slide that tray right on into the oven for about 15-20 minutes / until a butter knife comes out clean! When you take your brownies out of the oven, leave them to cool for at least 20 minutes before attempting to cut them and remove them from the tin - this will give them a little time to stiffen up and make it far easier to get them out neatly (sort of). I then sprinkled mine with a dash of icing sugar and put them in a cookie jar to enjoy throughout the week!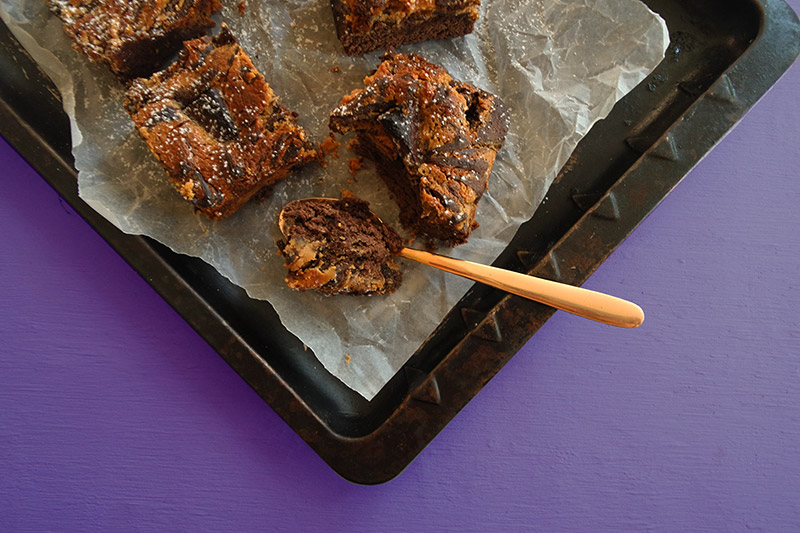 Thank you for taking a look at my latest recipe, if you want to see more of what I get up to on social media please take a look at my Facebook, Instagram, Twitter. If you want to catch peaks of cakes, cats, selfies, step-by-step vegan recipes, bits of Durban and lots of delicious food keep an eye on my Instagram story! OH! Please DO subscribe on the right (please).
Love,
Duffymoon