I am always looking for ways to spruce up our home, but autumn and winter bring out the nester in me! For most people, spring is the season for a home refresh, but for me, it is the total opposite! Every winter my hibernation instant kicks in and I start imagining ways to make our home cosier. I love being surrounded by beautiful things and our bedroom is no different, it is our special little snuggly spot for us the two of us. We recently did a big bedroom tidy; putting books back in the study, getting rid of the "clothes chair", removing the old speakers from the corner and ending it all in a swift sweep and vacuum. I love the look of a bright bedroom with minimal clutter and clean lines, it creates such a serene and relaxing vibe. For some people, a darker bedroom is cosier, but our "happy place" is crisp white sheets with dusty cotton candy pink accents. So now that I have a nice blank canvas, I am ready to deck it out with a few pretty bits and bobs to bring it all together. Want to see? Let's do it!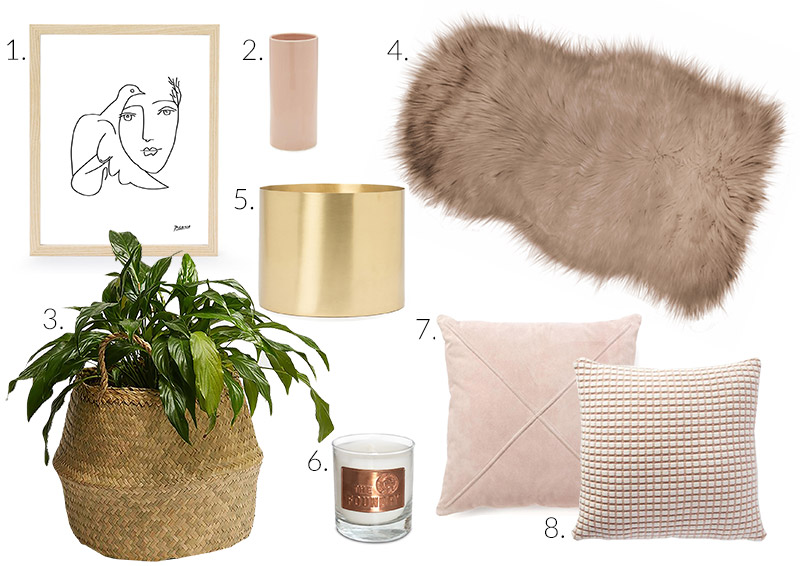 1. Picasso Line Drawing / 2. Blush Vase / 3. Grass Basket / 4. Faux Fur Rug / 5. Brass Planter / 6. The Foundry Candle / 7. Suede Cushion / 8. Woven Cushion
1. Picasso Line Drawing - Growing up with an artist for a mother I was exposed to all sorts of magnificent art at an early age. I have always had a soft spot for Picasso, he was a bit of a bastard and a total womaniser but he dominated art for the first half of the 20th century for good reason. I usually abhor famous art replicas as a general rule of thumb, but I find Picasso's line drawings are somehow acceptable. They are so simple and yet so expressive!I actually already have this particular artwork framed next to my bed. Also, have you watched Midnight in Paris? It is one of my all time favourites!
2. Blush Vase - I love having a big bunch of fresh eucalyptus next to my bed, Darren however, likes his bedside table to be as empty as possible. This leaves me with very little space for decor, so this vase fits the bill! It is a small vase that will be able to hold a few stems without taking up too much space. You know, space for all his chargers and things.
3. Grass Basket - Wicker/seagrass baskets are having a huge moment right now and I am 100% on board with it. They seem to go with everything, even my minimalist look and add such a nice warmth I love this belly-shaped basket, perfect for holding a big ol' plant or some rolled up blankets. If you are not in the market for a brand new one, you can pick up some pretty lovely second-hand ones from charity shops.
4. Faux Fur Rug - I am quite certain that I am not the only one who becomes obsessed with faux fur during the wintery months, I love a good bit of faux fur draped on the edge of my bed! This one is quite a specific colour but something about it really works for me! It is like a pinky taupe colour - very obsessed! It is just dark enough for my princess cat to sleep on without making it helluva dirty, unlike the white one we have.
5. Brass Planter - Blush and brass, a match made in heaven! I have a gorgeous vintage brass tray on our blush drawers and it is such a great focal point for the room, I would love to add this Country Road brushed brass planter to the other end to complete the look. It is so minimal while still being a bit glam. I actually bought my mum this very planter for her bedroom! Seems like brass-love runs in the family.
6. The Foundry Candle - I am so mad about this smell! It is called "Copper"! We have the room diffuser and it is MAGICAL. As soon as I get home, I open the bedroom door and I am hit with the smell, it just fills me with such warm and happy feelings. This combined with the smell of fresh eucalyptus is my favourite bedroom combo. Aside from the magnificent smell, there is nothing more beautiful than flickering candlelight in a bedroom.
7. Suede Cushion - This faux suede cushions would be great for breaking up all the white on the bed. I have two white, faux Mongolian sheepskin cushions on the bed at the moment but the white on white is a little too much. I am a cushion addict, I love collecting cushions and moving them from room to room and because our home has a very neutral colour scheme they pretty much fit anywhere! So I guess I could call these an investment? right?
8. Woven Cushion - Last but not least…a bit more texture! These woven beauties make a great combo with the suede cushion above and would tie in well with the addition of the Grass basket. Texture is really important when you are keeping your colour palette minimal, it adds points of interest and stops everything looking too "blah". Am I making excuses to buy more cushions? Maybe!
Thank you for taking a look at my latest post, I love doing these little wishlists, so if you enjoyed this please comment and let me know! If you want to see more of what I get up to on social media please take a look at my Facebook, Instagram, Twitter. if you want to catch peaks of cakes, cats, selfies, step-by-step vegan recipes, bits of Durban and lots of delicious food keep an eye on my Instagram story! OH! Please DO subscribe on the right (please)
Love,
Duffymoon