Happy day friends! This post is brought to you by a lazy Sunday morning slumber, rudely interrupted by grumbling tummies. I am an early riser, but once in a blue moon I manage to sleep past 7 am and on those days there is nothing that can get me out of bed…except…maybe…a call to the kitchen! Sunday morning saw the first of the early morning chills and we were snuggled up in our bed like squirrels hibernating for the winter. When we finally stretch our legs out of bed, we were hungry and craving something indulgent. So, I had been lent a gorgeous book by the lovely Anna Savage, you might know her as the creative mastermind behind I Heart Market and The Morning Trade in Durban? Anyway, I remember flipping through "Isa Does It" and catching a glimpse of these Pancakes and thinking, DAMN GIRL!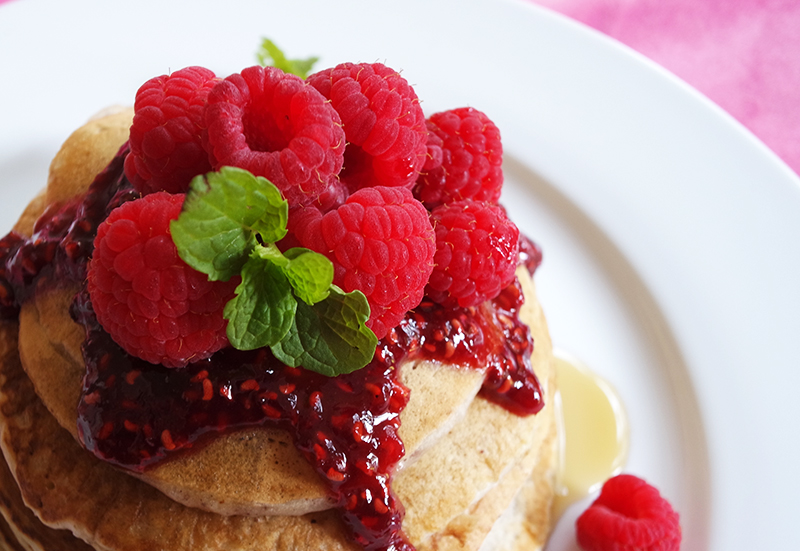 There is nothing like sitting in the warmth on a Sunday, eating something delicious and decadent with someone you love, whether that is your lover, your cat or yourself. Needless to say, I had to make them! The ingredients are pantry staples so they were easy to pull together and the pancakes were super quick to make too. They are fluffy and soft with a nice "wholesome" flavour thanks to the flax seed. I used almond milk for my pancakes, but you can easily use your favourite dairy-free milk like; coconut, soy, oat or rice milk.
Let's get started:
1 1/2 cups plain flour
3 1/2 tsp baking powder
2 tbsp brown sugar
1 tsp salt
1 cup almond milk
2 tsp apple cider vinegar
2 tsp ground flax seeds
1/2 cup water
3 tbsp oil
1/2 tsp vanilla extract

So first of all, sift together the flour, sugar baking powder and salt in a large mixing bowl. Don't use an electric mixer for these pancakes, that will more than likely cause them to be over mixed and flat. Instead opt for a more traditional approach, like a metal fork, like grandma used to!
Next, measure out your milk and add the vinegar and flax seeds and mix them together with your trusty metal fork! Make sure you mix for a minute at least, this should make your milk mixture a little frothy. You can now make a well in the centre of your flour mix and pour in your milk mixture and add the oil, water and vanilla. Slowly bring the mix together loosely, a couple lumps are not the end of the world! Let your batter sit for about 15 minutes while you prepare your toppings.
Topping-wise you can use pretty much anything you want! I used my homemade Chia Jam, maple syrup and fresh raspberries, but get creative! This is your time to shine, make those pancakes your own; dark chocolate sauce? whipped coconut cream? chopped nuts? rainbow sprinkles? fresh fruit? There are endless opportunities.
So now that your batter is rested you can go ahead and oil a thick bottomed pan. I used a cooking spray to make sure my pancakes would never in a million years stick to that pan and it worked like a charm. Put your pan on medium heat and scoop your batter into the pan, a task for a ladle or measuring cup. I would recommend making one pancake at a time but you can push it with two at a time if you are a risk taker, I, however, am not. Flip your pancakes when bubbles form on top and stack them all on a plate, this will keep them warm while you flip the rest.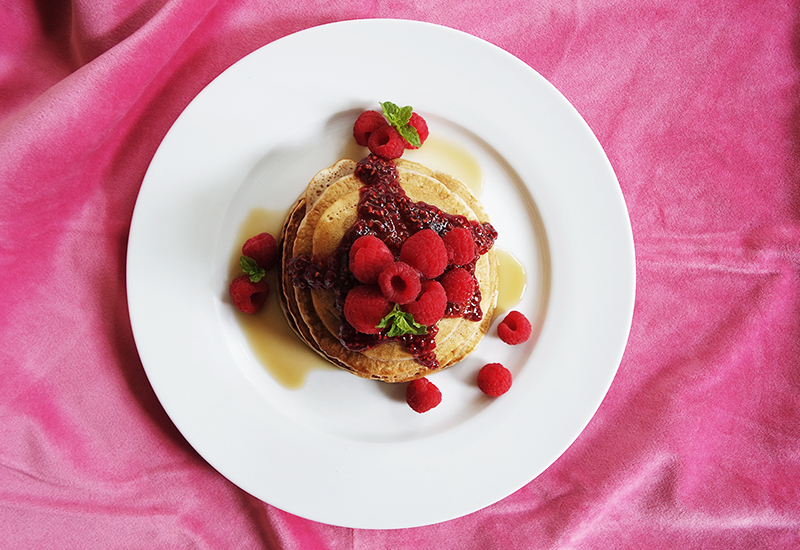 When you are done, top them with your chosen bits and bobs and enjoy! We devoured ours at the dining table, in our undies, surrounded by the animals. This recipe makes enough for two hungry people, so about 8 medium sized pancakes.
Thank you for taking a look at my latest recipe, if you want to see more of what I get up to on social media please take a look at my Facebook, Instagram, Twitter. If you want to catch peaks of cakes, cats, selfies, step-by-step vegan recipes, bits of Durban and lots of delicious food keep an eye on my Instagram story! OH! Please DO subscribe on the right (please).
Love,
Duffymoon