Hoppy Easter! As promised, I have compiled a little gift guide full of Easter goodies. This is not a chocolatey gift guide, because let's be honest, you have probably been eating easter eggs and hot cross buns for the past month or two ( I see you: fruit-free, vegan hot cross buns and Lindt dark chocolate bunnies) This is something a little fancy, a little pretty and really fluffy…angled more towards grown-ups, in the least explicit way. Obviously, this is a family show. There is nothing better than waking up to a special gift on Easter morning. Growing up, my mom and step-dad would always go all out for Easter. We would have Easter baskets filled with the most wonderful goodies, edible and NOT. Often we would be treated to a bunny plush, some cute socks and other bits and pieces. It was one of my favourite times, sitting next to my baby sister and comparing baskets while our parents toasted hot cross buns and made coffee. My sister would always swap eggs with me so I could have all the colours I liked and this was before Pinterest, Instagram or Facebook folks. To balance that out…she also stole my red head barbie and washed my Grand Champion horses hair to "help" me…but that is a story for another day. I love you, Colby, please still swap treats with me? So, this gift guide is a few things that I think would make up a lovely Easter basket, add in some chocolate eggs and bunny plush and you are good to go!
I feel like it is my duty as an earth-loving, glitter-hippy to also mention that real life bunnies are not good Easter gifts or gifts for children at all. Bunnies require a lot more than just love and snuggles, in fact, that is the least of what they need. Don't get me wrong, love makes the world go around, but bunnies require an exceptional amount of space and very particular care and they also poop a lot. As an ex-bunny owner (RIP Pancakes) and a current Guinea Pig owner I can tell you from experience that adopting a bunny is a very big responsibility and not for a child. That being said, bunnies can be exceptionally affectionate and wonderful pets for adults, they fill a gap in your heart that you never knew you had, those twitchy little noses and fluffy feet are also just to die for. If you are looking for a thoughtful gift for that special, bunny-lovin' someone, how about a donation to a bunny rescue in their name? Bunville Rabbit Rescue do an amazing job with rehoming and rescuing buns.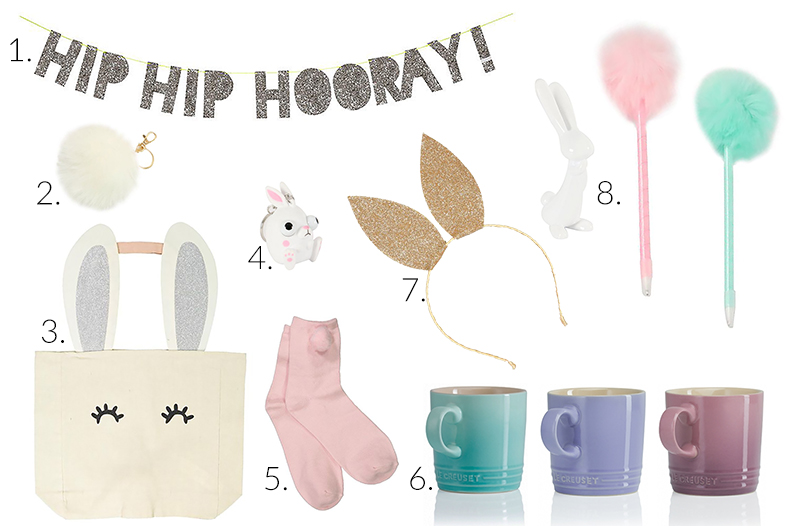 1. "Hip Hip Hooray" Glitter Banner / 2. Pom-pom Keyring / 3. Bunny Tote Bag / 4. Bunny Keyring / 5. Pom-pom Socks / 6. Le Creuset Mugs / 7. Glitter Bunny Ears / 8. Novelty Pens
1. "Hip Hip Hooray" Glitter Banner - How cute would this look in an Easter photo? or over the kitchen door? I am obsessed with decorating for the holidays and Easter is no exception! This glitter banner is the perfect touch of glam for your Easter celebration - any celebration?! What I love about it the most, is that the celebratory saying is easily reusable for other themed parties and not Easter specific. I am a glitter fiend…as you should know by now so this ticks all the right boxes! Pop this in your Easter basket accompanied by some pastel paper straws and have a pop-up easter party anywhere!
2. Pom-pom Keyring - Okay so I am a sucker for these damn faux fur pom-poms, I have one in every colour, attached to every single bag and set of keys. They are so reasonably priced, R29 is a steal! If you are giving a bag as a gift these fluff balls just add something special. Every time I give a purse as a gift it is accompanied by one of these guys, along with a couple of coins! Did you know it is bad luck to give someone a purse without money in it? Well, it is! I feel the same about giving a purse/bag without a faux fur pom-pom. Do you think I am over-invested in pom-poms? I am not even sponsored by Mr Price, but I probably should be.
3. Bunny Tote Bag - My collection of Cotton On tote bags knows no limits (ask my fiancé) and they are another "must-have" on my gift giving list. Most gifts that I give come in a Cotton On tote, I like the fact that I am not perpetually buying wrapping paper that will just end up going into the bin. They are reusable and perfect for popping in your bag as a handy grocery bag. This bunny tote bag is so dinky, can you imagine hanging this up for your someone special to find? filled with special things and love notes? It even had the added bonus of glitter ears! For non-glitter fans, there is also an all-over bunny print :)
4. Bunny Keyring - I had to include this because it is just too hilarious not to! I was walking around, looking for some prizes for a client's office Easter hunt and I came across these totally ridiculous keyrings. They are in no way sophisticated or glamorous, but holy hell they are so funny and pretty unexpected amongst the pretty pastels and fluff. For those who are wondering…yeah his little eyes pop out when you squeeze him! Here's an idea, how cute would this be in your person's Easter basket with a set of your house keys to take your relationship to the next level? I know, just call me the love guru.
5. Pom-pom Socks - I proudly own all 3 pairs of these pom-pom socks. The pom poms are like little Easter bunny tails, can you handle the adorability? These in an Easter basket, tied up with a bow or tucked into some bunny slippers would be SO cute. I bought a pair for my mom, my sister and myself as soon as I set eyes on them! You bet that I will be rocking these on Easter, pulled up and paired with my Adidas Superstars and a cute pastel pink dress. They are fairly inexpensive on their own, but if you buy all 3 it is 3 pairs for R100 - bargain!
6. Le Creuset Mugs - Le Creuset have upped their mug game…BIG TIME! They have always had a beautiful selection of bright mugs, but recently they have added so many new colours! I received their newsletter and I hopped over (haha) to their website and I was pretty shocked to see that their mug range now has 32 colours - yeah THIRTY TWO. I love buying mugs as a gift, especially accompanied buy a fancy tea and tea strainer or a really good local coffee brew. My favourite "Easter-y" colours are; Cool Mint, Lavender and Mauve Pink.
7. Glitter Bunny Ears - When it comes to cute holiday accessories the first place I start looking is the kids section! Very often the grown-up holiday stuff is a little dull and not nearly as festive as the kids stuff. If you are going to celebrate a holiday, just do yourself a favour and GO ALL OUT! It doesn't have to be an expensive exercise, but it is just so damn fun! I picked up these gold glitter bunny ears from the Cotton on kids section, they also had a more floppy silver sequin pair. Another great place for Holiday accessories is Claire's and Lovisa. Something wearable is great for and Easter gift - and makes for amazing pictures.
8. Novelty Pens - I meant to choose just one of these pens, but I couldn't do it, they were all just too cute. The white bunny pen is another super cute Easter basket filler. It is nice to include an actual bunny somewhere in your gift, especially if you are opting out of the bulging eye bunny keyring. These fluffy topped pens are SO CUTE, they remind me so much of Clueless and Legally Blonde which gives me serious throwback feels to my youth! Throw one (or all) of these pens into your Easter gift because in my opinion everyone is a sucker for stationary and who can honestly say no to a cute bunny pen or a Clueless-esque fluffy pen?Besides, cute pens make your writing better make you more creative - fact! (in my opinion)
So there we GO! Thank you for taking a look at my latest post, gift giving is my jam so if you enjoyed this please comment and let me know! If you want to see more of what I get up to on social media please take a look at my Facebook, Instagram, Twitter. If you want to catch peaks of cakes, cats, selfies, step-by-step vegan recipes, bits of Durban and lots of delicious food keep an eye on my Instagram story! OH! Please DO subscribe on the right (please)
Love,
Duffymoon