What is better on a hot spring afternoon than a big fat salad and a slice of quiche? It sounds like a fancy ladies lunch to me! Sitting in dappled sunlight, sipping on sparkling water and wearing a wide-brimmed hat. Maybe it is just me but that is the vision I get when I imagine quiche, that or being jammed into a small venue for a baby shower, take your pick!

I dug up this delightful eggless quiche recipe especially for my mom because she is obsessed with quiche and salad! Every time we would go to the NSA Gallery she would order quiche and salad, then we became vegan! I really wanted to be able to create something healthy without compromising on flavour so I needed something with a fairly neutral base; enter tofu!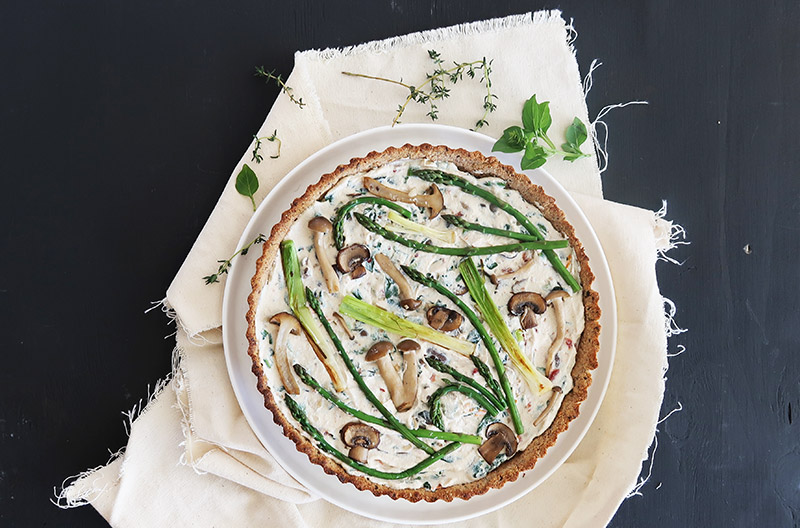 Now before I lose you, I know a lot of people don't enjoy tofu generally but tofu makes a great base for flavour! Plain tofu is straight up gross, I know it, you know, we all know it! However…add in some spices and garlic and cook it for a bit and you have yourself something quite magical – it is quiche, 100% beautiful and tasty quiche. I implore you to try this eggless quiche, just once and it will change your life forever! The homemade crust is packed with flavour and goodness and worth every second of the 3-minute preparation! The best part about this quiche is that you can use whatever vegetables you like! I would just stick to low-liquid veg as you want to tofu to be able to set.

For the filling:
500g firm tofu (I buy mine from Food Lovers)
1 tbsp olive oil
1 large leek
3 cloves garlic
2 cups of mixed mushrooms (I used porchini and shimeji)
1 handful of basil
+- 6 chopped sundried tomatoes
1 handful baby asparagus
1 handful baby spinach
3 tbsp nutritional yeast
1 tsp chopped thyme
chilli flakes to taste
1 tsp fine salt
For the crust:
1 flax egg (1 tbsp ground flax seeds & 3 tbsp water left to sit)
1 cup oats (ground into flour)
1 cup whole almonds (ground into flour)
1 tsp chopped thyme
1 tsp chopped oregano
½ tsp salt
1 tbsp olive oil
2 – 3 tbsp water
First things first! Preheat your oven to 180 Celsius and dig out a tart tin or a pie dish. Le Creuset do really cute flan dishes that work perfectly, but in this case I used a loose-bottomed tart tin. Grease the tin liberally with spray and cook or olive oil and then set to one side.
Now mix all the dry ingredients for your base together, the oat flour, the ground almonds, chopped herbs and salt. Give it a really good mix and then add your flax egg, olive oil and most of the water. Mix your "dough" together until it forms a sticky ball, it should sort of be like rough cookie dough.
Press this dough into your tart tin evenly. I find the best way is to sprinkle chunks of dough into the dish and then press it all together. Poke a couple of holes in the base to make sure the steam can escape and bake at 180 for about 10- 15 minutes. The quiche base should go a beautiful golden brown. Use the edges as a guide, the worst is over baking the base and being left with a burnt crust!
It is time to start your filling! Before using your tofu make sure you press it between a dishcloth (I leave mine between a dishcloth and underneath a heavy breadboard while I prepare the crust).Get your tofu into a food processor and blend until smooth, this might take a little while and may require a bit of stopping and starting but you can add in a little bit of almond milk to help it along. Just a little bit at a time, you should not need more than ¼ of a cup.
In a heavy bottomed pan, fry your chopped garlic, leeks and mushrooms until all the moisture from the mushrooms is cooked out and then add your spinach and cook until wilted. Season with salt and remove from the heat. Next, you can fry your asparagus, about 2 minutes so they are "bendable" and set them to one side. If you would like, you can reserve some of the better-looking mushrooms for the top of the quiche.
Take your mushroom mix and add in your basil, sundried tomato, chilli flakes, thyme and nutritional yeast and give it a good mix together before adding it to the tofu mixture. Make sure you combine everything evenly so you get a taste of everything in each bite.
Place a few of the asparagus spears onto the quiche base and then spoon the tofu mixture in and smooth it out evenly, topping it with the remaining asparagus and any of the mushrooms you may have reserved for decoration. Bake your quiche masterpiece in the oven at 180 for about 30 minutes or until your quiche is beginning to brown on the top and is firm to the touch (don't burn yourself, maybe my fingers are just used to the heat by now?).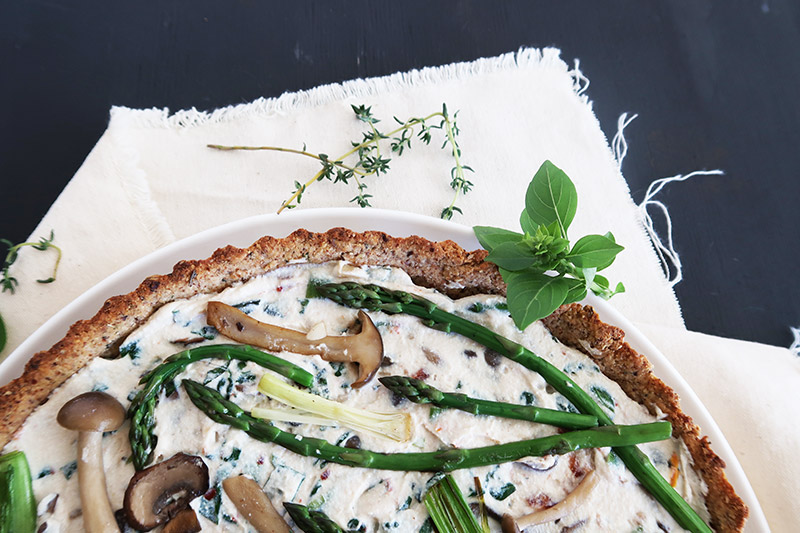 Once your quiche is cooked, leave it to cool down for about 15 minutes before slicing it. Holy wow this has been a long recipe…hey? Damn this quiche is good and I just know you are going to love it! If you give it a bash, let me know what you think and if you change the veggies inside tell me what you tried!
If you want to see more of what I get up to on social media please take a look at my Facebook, Instagram, Twitter. If you want to catch peaks of cakes, cats, selfies, step-by-step vegan recipes, bits of Durban and lots of delicious food keep an eye on my Instagram story! OH! Please DO subscribe on the right.
Love,
Duffymoon