Howdy folks! I hope everyone had an amazing weekend. I spent the weekend doing mostly home things like tidying, cooking and of course watching Harry Potter whilst eating Cannelloni (recipe coming soon!). Ahead of a busy and mental week, I love having a quiet wind down to prepare myself for the madness. As I write this the guinea pigs are frolicking on the lawn, the dogs are softly snoring by my feet and the cats are on the back stairs sunbathing. Every now and again, amidst the elaborate and fancy foods that I enjoy making, I crave something simpler. As much as I love more complicated dishes, I also think it is seriously important to enjoy the amazing flavours of individual ingredients.
The humble tomato is often gussied up with all sorts of herbs, spices and more often than not it is used as a base to bolster other flavours…a job that it does well! But sometimes tomato is just great on its own, being celebrated with simplicity. This tomato salad, inspired by Jamie Oliver, is something I love to make en masse for our family lunches, but it is also easy to throw together at the last minute for a weekday lunch. Aside from being delicious, tomatoes are SO good for you as they contain amazing antioxidants, are extremely high in Vitamin C and are considered to be very good for skin health too. The base of heirloom tomatoes is covered in a simple vinaigrette and then sprinkled with a confetti of oregano and fresh chilli. This kind of feels like a vegan-friendly Caprese salad without the mozzarella and basil…so basically not a Caprese at all. So, let's get started!
You will need:
1 kg of mixed tomatoes (there are LOADs of different kinds out there at the moment!)
1/2 cup extra-virgin olive oil
2 tbsp apple cider vinegar
1/2 clove garlic (finely chopped)
1/2 chilli (finely chopped)
fresh oregano
salt
black pepper
You are probably looking at those ingredients and thinking…how can this be good? Well, it just is, trust me! First off, start by chopping your tomatoes. I like to cut all the different kinds of tomatoes in different ways… the big beef tomatoes into thick slices, the baby tomatoes into halves and the medium tomatoes into quarters.
Place your tomatoes in a bowl, season them with salt and a bit of freshly cracked black pepper and toss them around. Next, it is time to make your simple vinaigrette: combine your olive oil, apple cider vinegar, garlic, some chopped oregano and chilli. I like to pour this all into a glass bottle and shake it together to combine, it makes it much easier to mix and pour. You can now add your vinaigrette to your tomatoes, giving them a good mix.
Lastly, it is time to plate up. Layer your beautiful tomatoes on a plate or platter, just make sure there is a lip so all the delightful juices don't come spilling over the side! I like to lay down a base of big ol' beef tomatoes and then cover them with a wide variety of more interesting looking tomatoes; different sizes, shapes and colours! Now finish off your salad with a final drizzle of your vinaigrette and an additional sprinkling of oregano leaves and serve.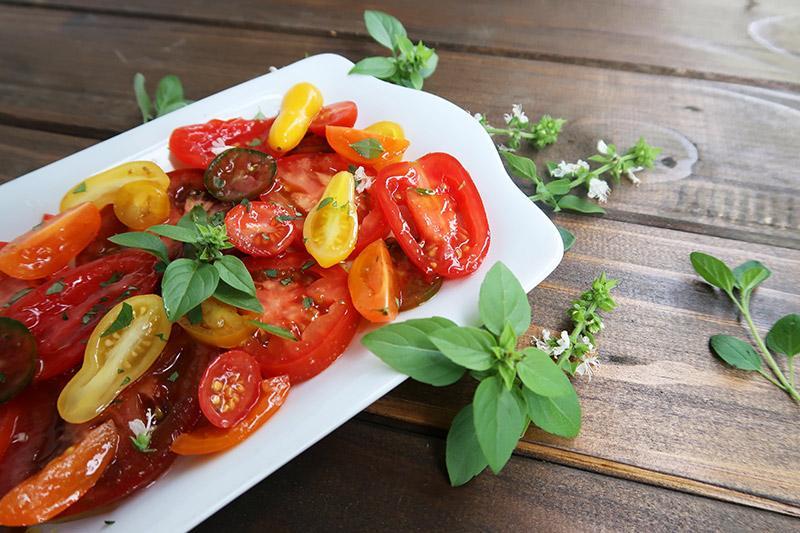 Please let me know if you give this a try, I LOVE your feedback! If you want to see more of what I get up to please take a look at my Facebook, Instagram, Twitter. If you want to catch peaks of cats, self-motivating gym selfies, step-by-step vegan recipes, bits of Durban and lots of delicious food keep an eye on my Instagram stories! OH! Please DO subscribe to the right!
Love,
Duffymoon