Okay, I am sorry. It has taken me super long to post this recipe, or rather post anything as all, I have had a hell of a busy few weeks! I can however promise you that once you taste these chicken wings you are not only going to forgive me but you are going to thank me for changing your life.
These chicken wings are the things dreams are made of, they are a little spicy, a little sour, a little salty, a little sweet and all amazing. I don't want to talk these wings up TOO much just in case your taste buds are broken and you just don't get it. BUT They are delightful and perfect with a side of nothing and topped with nothing.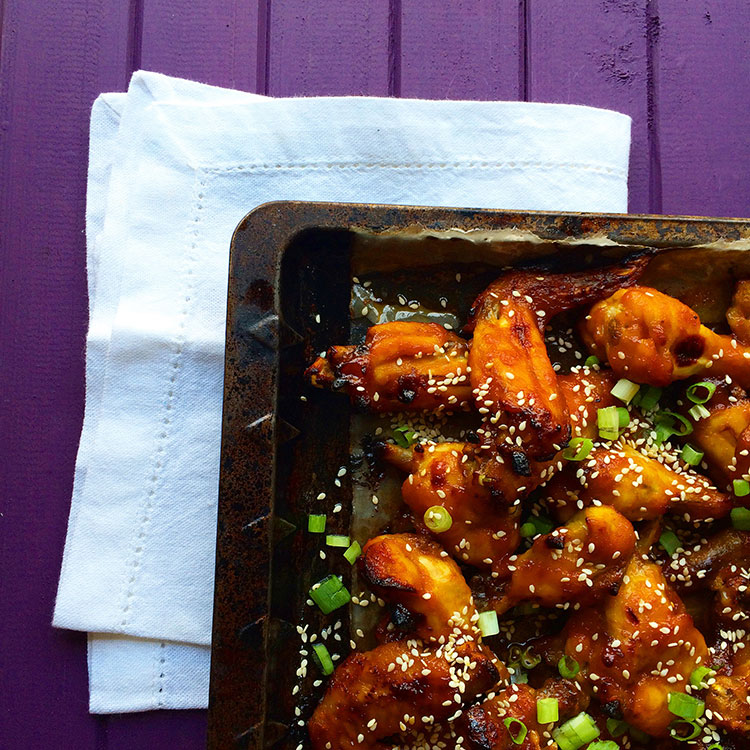 I had heard of Sriracha before but I only tasted it for the first time on holiday about a month ago when my moms boyfriend Mark brought some with him to Lake Laverone. It is the perfect chilli sauce. I never really understood what the big deal was about Sriracha until I tasted it, but once I did...I totally got it. I understood all the hype and in my other tab I am googling "Sriracha tee shirts" so I can 100% support the cause. There is a Sriracha documentary and The Oatmeal made a pretty awesome Sriracha comic here.
First thing is first, you can buy your Sriracha from most Woolworths Food stores around the country or you can order it online from Woolworths here If neither of those are fruitful, you can order directly from the source on amazon!
To make these heavenly little winglets you will need:
Chicken wings

1 kg chicken wings ( +- 16 wings)
2 tablespoons butter (NEVER MARGARINE)
1 tablespoon sunflower oil
1 tsp crushed garlic
salt and pepper
Sriracha Honey Glaze

5 tablespoons butter (NEVER MARGARINE)
1 tablespoon flour
1/4 cup honey
1/4 cup Sriracha
1 tablespoon soy sauce
Juice of 1 lime
Instructions

Preheat your oven to 180 degrees. First rinse your chicken wings then mix melted butter, sunflower oil, garlic and salt and pepper in a bowl and thoroughly coat your chicken wings. Next roast them on a greased baking sheet for 25 - 30 minutes - turning them over half way.
While your wings are roasting, make your Sriracha glaze. To make the glaze, melt your 5 tablespoons of butter on medium heat and then whisk in your flour until lightly brown. Stir in your honey, Sriracha, soy sauce and lime. Add 1/4 cup of hot water and whisk until smooth.
Brush your glaze on your chicken wings - SKIN UP and roast them for 5 minutes and then brush on a second layer and roast until slightly charred and crispy. I like to leave them in the oven until they are a little blackened on the skin - YUM!
Take them out and leave them to cool slightly because once you start eating them you won't be able to stop. Sprinkle with sesame seeds, sliced spring onions and serve. This recipe doubles well, we usually make 32 chicken wings which is about 2kgs. Okay it sounds worse than it it because it is also the weight of the bones too you guys!!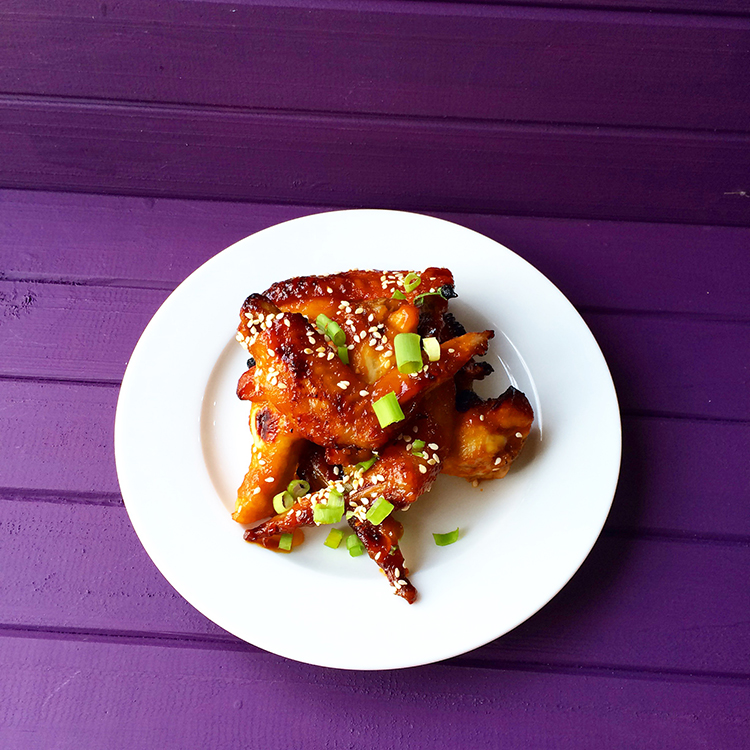 Although the honey & flour goes against my current no carb, no sugar rule (due to the flour and honey), the quantity is so small that these make a really wonderful treat!
Please give me a shout on Facebook, Instagram or Email if you decide to try these babies out.
Love,
Duffymoon xxx