These little bites are jam packed full of my favourite delicious flavours! They are quick and easy to make, are crispy around the edges and deliciously mushy in the middle. This is a vegan friendly recipe and can be gluten free if you make sure you swap out the normal flour for gluten free flour. I used the fresh Medjool dates I picked up from Woolworths and some 99% Lindt chocolate! Decadent hey?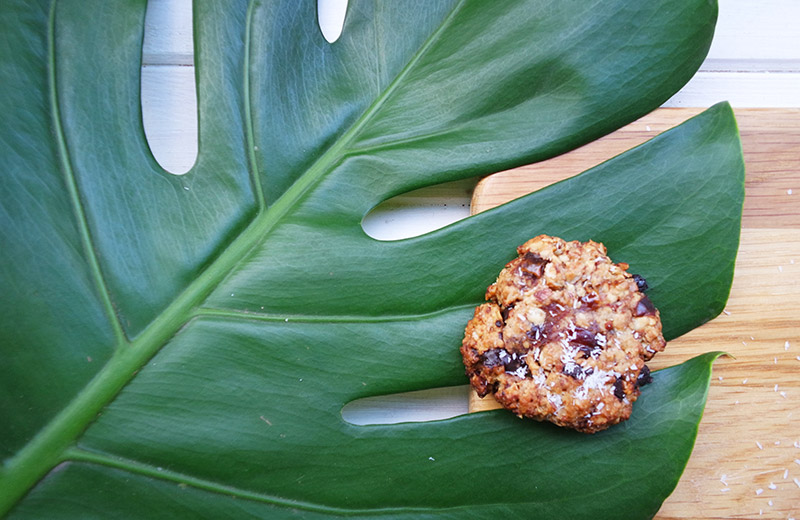 As most of you who follow me on social media will know, each Tuesday evening I attend a group meditation which is hosted by my mom in her home. It is a wonderful evening where a handful of us get together and eat a delicious home cooked meal (usually Sir Marks veggie soup) and have an hour meditation. This is followed up by tea, coffee, deep spiritual conversations and a little sweet treat made by your truly. It has honestly become the highlight of my week, meeting with beautiful people and sharing a calming meditation. There is no pressure to be an expert and it is gently guided by my favourite person - my mom.
There is no real prerequisite for the treats but my mom and I kind of decided early on that it would be nice to keep it clean and vegan, just because it is such a light and spiritual evening - the food should match the vibe. So, challenge accepted! I love new food challenges, especially those with a routine. I am loving having a little weekly deadline to whip up something creative in the kitchen. That being said...you don't need to be vegan to enjoy these cookies!
You will need:
1 & 3/4 cups pecan nuts
2 cups rolled oats
3/4 cup self raising flour
1/2 cup brown sugar
1/2 tsp cinnamon
1/2 tsp salt
1/2 cup maple syrup
3 1/2 tbsp coconut oil
2 tbsp almond milk
2 tsp vanilla extract
+-6 large Medjool dates (pitted & diced)
1/2 slab dark chocolate (vegan friendly)
Start off by preheating your oven to 180C and toasting your pecans for about 10ish minutes - until they are golden brown in colour and have a bit of a crisp to them. Allow them to cool and then blend them together with 1 cup of oats in a food processor. You kind of want there to be a fine oaty powder as well as decent pecan chunks. In a bowl add the pecan oat mixture and add the remaining oats, flour, sugar, cinnamon and salt.
In a separate bowl combine your maple syrup, melted coconut oil, almond milk and vanilla. Take this wet mix and stir it into the dry oat mixture and combine until you have a wet and sticky dough. Next you can stir in your chopped dark chocolate and your dates. BUT before you stir in your dates, roll them around in a little bit of flour to make sure that they don't stick together and create one big date cookie.
Now you can portion out your cookie dough. I used a tablespoon do scoop out just enough dough then I rolled them into balls and squashed them flat onto a greased baking tray. It may take a little extra work if you want them to be neat but i just went for a rustic look and let mine be a little hap-hazard. Bake them for about 10 minutes or until they start to brown on the edges. Allow them to cool for about 15 minutes before storing them in an airtight container.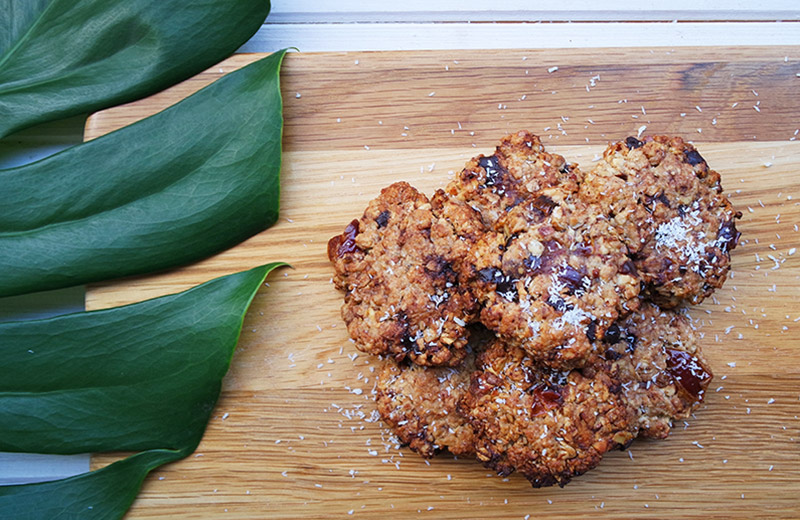 They are really delicious and I would say you could probably even have them for breakfast, in my mind if it has oats in it it is practically breakfast food right? Explains a lot. Anyway, I hope you give these cookies a try and let me know if you do!
Thank you for taking a little look see at my latest post, if you want to see more of what I get up to on social media please take a look at my Facebook, Instagram, Twitter and feel free to add me on Snapchat (jordynburne) if you want to catch peaks of my newest cakes, cats, selfies, fashion stuffs, step-by-step recipes, bits of Durban and lots of delicious food! OH! Please DO subscribe on the right so you can be the first to get the latest on the Hello Duffymoon front, I promise I am not spammy.
Love,
Duffymoon