Hello folks and welcome to the first Wishlist Wednesday. As most of you know if you follow me on Instagram / Facebook I really love beautiful things. I love coveting them, collecting them and swooning over them so it only seemed reasonable to do a weekly wishlist of what has caught my eye :)
These will most likely have no theme and no correlation to one another, they are simply grouped together because they are this weeks objects of affection. You know when you see something and you are just wild about it? Ya, that. I don't know about you…but sometimes just the action of adding something to my wishlist makes it seem a little closer to my being :P Sounds weird right? I know guys. I know.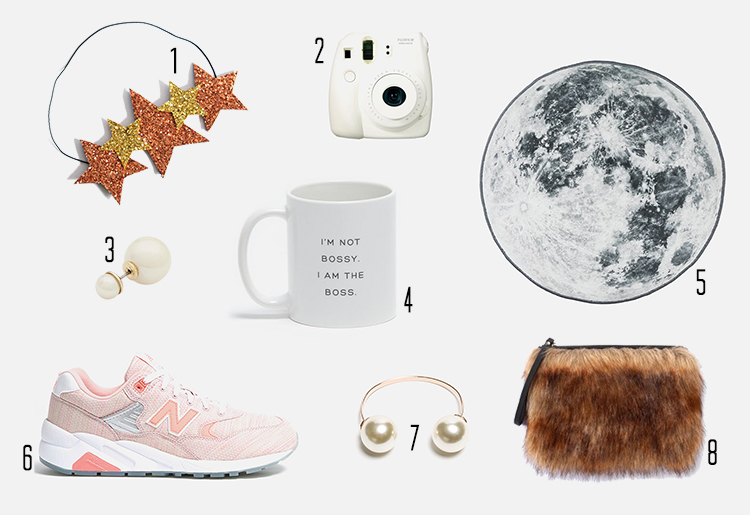 1. Star Crown / 2. Instax / 3. Pearl Earrings / 4. Bossy Mug / 5. Moon Rug / 6. New Balance Sneakers /
7. Pearl Bangle / 8. Clutch
As you can see there is a bit of a metallic and white trend in this wishlist. I am really loving copper, rose gold and blush right now. The glitter star headband is from the one and only Crown & Glory and since I have started thinking hard about a hair change I am finding myself drawn to very mermaidesque hair accessories *watch this space*.
The pearl earrings are not a recent find, they have been on my list for a while. Ever since I saw this picture on pinterest I am pretty sure these earrings haven't left my mind. The rose gold and pearl bangle is a recent addition from Superbalist and it is pretty reasonably priced too.
The bossy mug speaks for itself, no? ;)
I have been coveting an Instax for quite some time now. I would say...probably since last Summer. I just love the idea of having beautiful moments encapsulated in a permanent image. Well it is between an actual instax and an instax printer… but an instax seems to have a lot more whimsy involved…just one moment in a little picture… forever!
Who doesn't love the idea of standing on the moon? This Moon Rug from Superbalist has me 100% obsessed with all things moon / cosmic / constellation / space! We have recently done a photographic installation of different phases of the moon in our bedroom and I think this rug would just tie things together perfectly. Would someone convince Darren?
Okay, I know this faux fur clutch is totally over the top but I can't resist a bit of warm faux fur in the winter. It was trending overseas in winter BIG TIME and I was initially a little "ugh" about it. But now I am obsessed! Besides, it would definitely keep my lap warm!
Last but not least, can you handle these adorable New Balance sneakers? I first saw them in Sports Scene a few weeks ago and I haven't been able to get them out of my head. We have been going through a bit of a fashion trainer obsession at the moment, so these would be the perfect addition for a bit of pastel pink goodness
I hope you enjoyed the first of (hopefully) many wishlists. I always love an insight into what other people are obsessing over, so I hope you enjoy mine!
Love,
Duffymoon xxx