Helloooo friends! I know… I have been a bit absent of late, so I must apologise for that! The truth is that my camera was stolen and that really bummed me out big time. Photos are a pretty big part of what I do around here, so not having a decent camera really puts a dampener on things. I know I could have probably photographed things with my phone to keep the momentum going but I just used the time to zen-out and plan my next moves. I am back though and I have a lot of cool things to share with you and a lot of new blog posts to photograph!
After a lot of research, I have finally replaced my camera with the Canon G7X Mark II. Not only are the photographs beautiful but the vlogging opportunities are endless (hint hint). I have wanted this camera for a long time, so it is kind of a dream come true. When you love pretty things like I do, good pictures are EVERYTHING! I have been planning a new blog series that I am going to be launching in the next few weeks and I just know you are going to love it! Well, at least I hope you will, but for now, let's take a look at my exercise essentials!
I have recently started working out again, after a big hiatus. Since working in an office I have really battled to get into a good workout routine. READ: I have had no workout routine for an entire year! I used to go to a couple of gym classes a week in the dead of the afternoon and I loved it. I guess I have just lacked the motivation to get going again…but you know what changes the game? The right workout gear! Take a look at what I have been loving lately.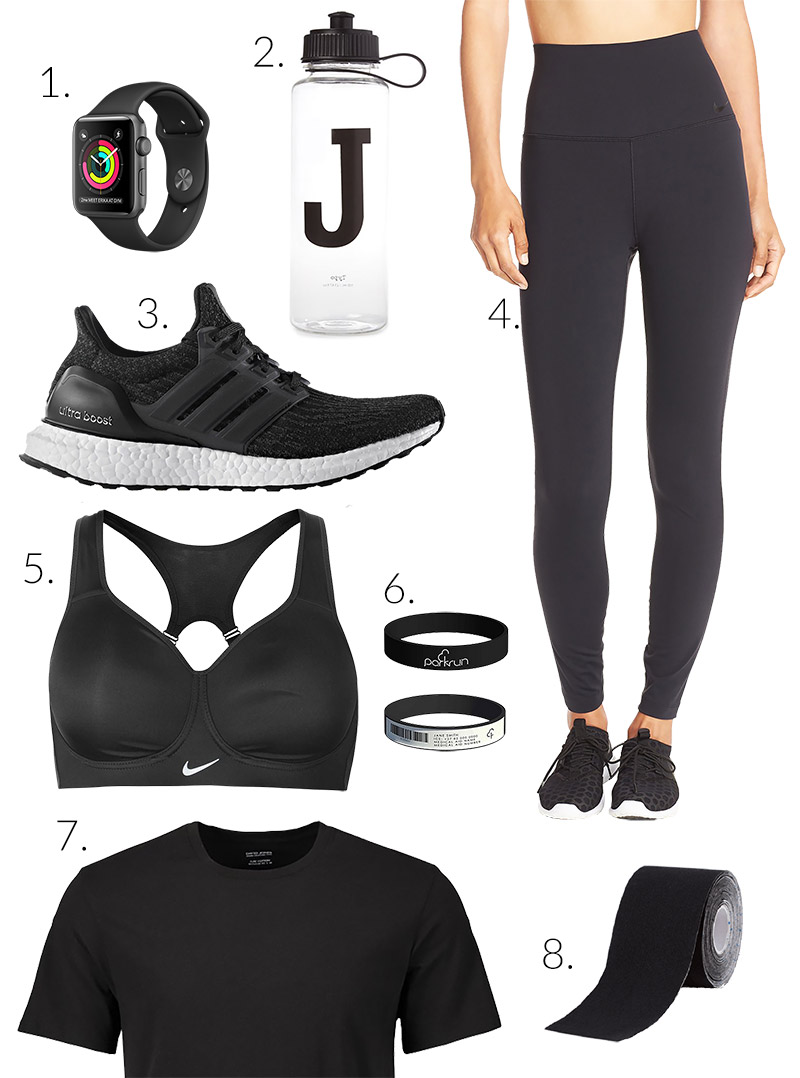 1. Apple watch / 2. Water bottle / 3. Adidas Ultra Boost / 4. Nike Legendary leggings / 5. Nike Rival sports bra / 6. Park Run band / 7. Plain black tee / 8. Kinesiology tape
1. Apple watch – Okay so I know this is a pricey start to the list but this little gadget has changed my life! I know there are a lot of different devices that can help you keep track of your steps and show you how many calories you are burning, but with the Apple watch it all connects so seamlessly to my iPhone, it is a dream. The best part is that you can get your Apple watch through Discovery Vitality and if you meet your goals for the month…you don't pay a cent! I am so obsessed with reaching my weekly goals because I just flick my wrist and I can see how many calories I have burned and how many times I have stood up in the day, oh, also the time. I have never worn a watch in my life, but I never forget to put this baby on!
2. Water bottle – It is SO important to stay hydrated both before, after and while you are working out! This is something that I have only started doing. When I am working out and start to get thirsty I usually just push the thought out of my mind and carry on, but having a big (and cute) water bottle has really helped me to stay on top of my hydration! I much prefer to have this style water bottle, I know there are loads of nice ones with straws in them but nothing gets my goat more than an AIR HOLE in a straw.
3. Adidas Ultra Boost – Okay so technically these are on my "wishlist" and not in my workout wardrobe (yet) but I can't stress the importance of good shoes. Of course it depends on what kind of exercise you are doing, but for someone like me, who is an aspiring runner…you really need good, comfortable shoes. I have injured myself (repeatedly) with ill-fitting, cheap running shoes. My arches pull, my Achilles ache and my knees pretty much burst into flames. Also, did I mention the god awful shin splints? Hell no. I am looking at getting myself a pair of these bad boys! Not only are they bouncy and comfortable but they are damn beautiful too
4. Nike Legendary leggings – I got my first pair of these about 3 years ago and I have never looked back. They are thick, stretchy and very long wearing. I pretty much only wear high-waisted pants, so it makes total sense that I would go for high waisted workout bottoms. They also have that fancy material that dries almost instantly, which is essential if you want to avoid chafe (another big NO from me) These leggings help me to be the most comfortable I could possibly be, all while I am forcing myself to be extremely uncomfortable aka gasping for air.
5. Nike Rival sports bra – If you have big boobs, you will not know yourself until you have a high impact sports bra. They are the best. There is nothing worse than pushing yourself through to the finish all the while your boobs are trying desperately to murder you, exercise is hard enough as it is guys. Of course, I have one of those low impact, cup-less sports bras, you know, the ones you see everyone on Pinterest wearing? That bra is strictly reserved for pilates, yoga, walking and flatlays.
6. Park Run band – This isn't an essential for everyone, but it sure is an essential for me! Parkrun was actually the first thing I started doing when I decided to get back into my workouts. It is such a great way to do a quick 5k before the weekend gets into full swing and you can totally walk! There are Park runs all over the world and it is such a festive vibe. Basically, you sign up on the website, print your barcode and bring it to the next run. BUT if you are committed you can order one of these little barcode bracelets so you never have to scratch around at the bottom of your bag for that tiny little paper barcode ever again (before you realize that your bag was stolen and this is a new bag…)
7. Plain black tee – How many black tee's do I have? Probably too many but I really do live in black t-shirts. I have them in all shapes and sizes, tight ones, loose ones, long sleeved or short. No vests, I don't do vests. However, my favourite black tee's to work out in are not my own, they are my fiancés! These plain 'ol Woolies jobs are the perfect workout shirts, they are 100% cotton and because they are mens shirts, they are a very casual fit. Nothing fussy, just good basic threads. It also helps that they are very reasonably priced, 2 for R200? Yes please!
8. Kinesiology tape – This is a very recent discovery of mine. It was so weird because when I went in to buy this tape I felt so silly and dramatic but it is the best thing I have ever done! I have this bad habit of persevering through pain in a workout. Not the normal "push yourself through" kind of pain - the pain I mentioned above, shins, Achilles, arches and knees. These are not things you should push through because you can really hurt yourself. Not only does this ruin your workout, but also it can really put the brakes on weeks of future training. When my Achilles started to pull at the last Park run, I pushed on and was then treated to two weeks of limping. So when I felt the burn on the last run I was ready, I taped my ankle up and I haven't worried about it since. There are loads of tutorials on the internet, so I went to my most trusted source (pinterest, obviously).
Well, I hope you found this interesting Thank you for taking a look at my latest post, I loved writing this little post, so if you enjoyed hearing my basic work out tips, please comment and let me know! If you want to see more of what I get up to on social media please take a look at my Facebook, Instagram, Twitter. If you want to catch peaks of cakes, cats, selfies, step-by-step vegan recipes, bits of Durban and lots of delicious food keep an eye on my Instagram story! OH! Please DO subscribe on the right (please)
Love,
Duffymoon